After yesterday's Beyond Depressing Decluttering Post, I'm happy to share this one.
Last night, as we watched our favorite family show (Shark Tank), my 8yo got the decluttering itch.
She started out looking through our video stash "just to see what we had." Soon, she was sorting and stacking and making a Donate Pile of the ones we obviously didn't need. I'd purged most of the VHS tapes from another spot before, but had avoided this particular place.
It made my Mommy/Slob-Blogger Heart swell with pride to see her so logically identify which ones we had no reason to keep. In the end, the only VHS that made the cut were home videos (that need to be transferred to DVD-or-whatever-else-is-the-thing-by-the-time-I-get-around-to-doing-it) and a few fishing tutorials that Daddy deemed keepworthy.
Oh, and Cinderella and Sleeping Beauty. She hauled everything that didn't make the cut out to the Donate Box.
I sat in the recliner while she did a fantastic self-directed job. The only thing I did was answer a few questions here and there.
That's what made this the best kind of decluttering ever.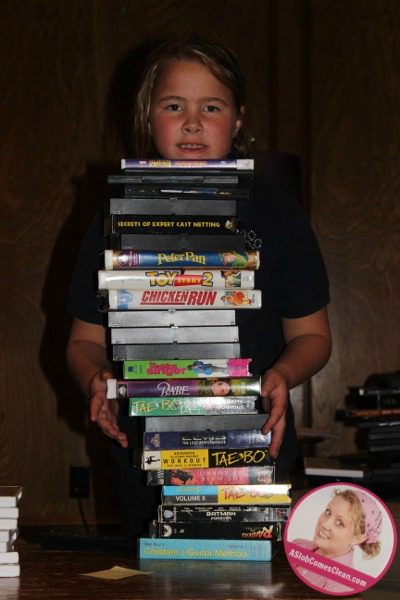 Just as I was congratulating myself that she's learned a thing or two from her Decluttering Mama, she said something like: "I just figured if I didn't do it, you never would."
Hmmmph.
--Nony