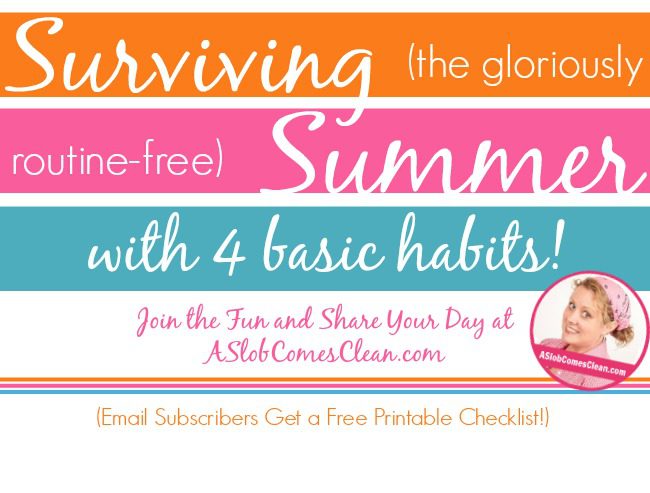 It's almost summer!!! Wahoooooo!!!
(For some of you, it already is!)
If you've been around here for previous summers, you know it's my favorite time of year. I might want to improve my housekeeping skills and make my home more welcoming and blah blah blah and yadda yadda yadda . . . but I lo-ooo-ove basking in the crazy lack-of-a-routine we call summer.
Like last year, I'm taking the summer off from blogging to be with my family. (Did y'all know this is a full-time job?)
This doesn't mean I won't post at all, it just means I won't feel like I have to write thoughtful and/or hilarious posts every single day.
What I will be posting is my daily checklist, boiled down to the most ultra-basic. Those four, mind-bogglingly simple habits can bring a home out of disaster or keep it out.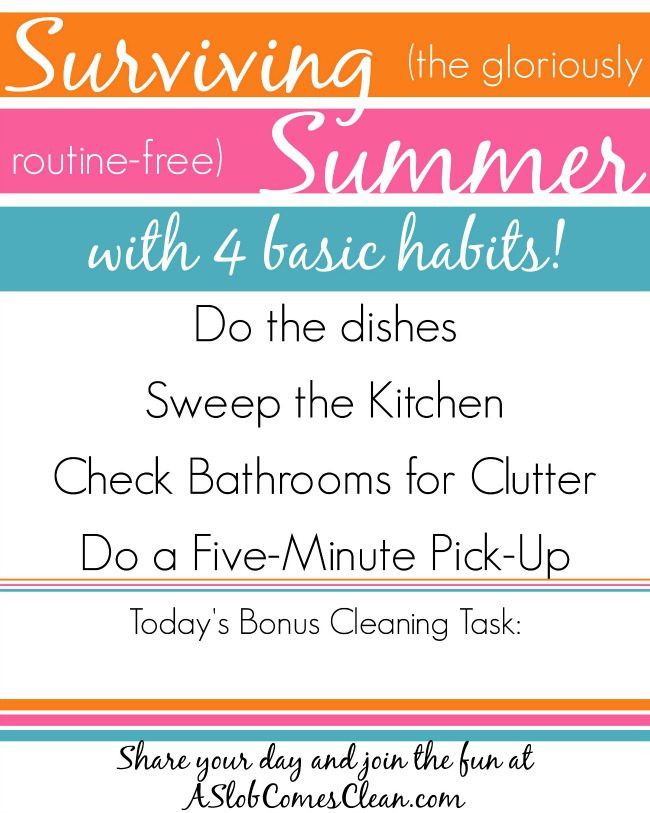 I'll also share what cleaning task we did that day. (If any!) These will be the things I've spent previous summers teaching my kids. If you want to teach your kids basic cleaning skills this summer, check out my e-book, Teaching Kids to Clean.
And that's my goal. That my house will survive summer.
Here's how it will work:
Most days, I'll create a blog post that will simply be these four habits, with the ones I actually did crossed off. (I'll likely expound a little sometimes. I'm wordy like that.)
You can leave a comment here on the blog and/or a comment AND photo of your own crossed-off checklist over on Facebook.
And that's it!
How do you get your own printable version of this checklist? (A printable that I personally think is super-cute and summery.)
With your first email (after the opt-in one), you'll get access to the printable checklist. AND you won't miss a thing when I DO post over the summer. You can choose from the daily email (it comes once a day IF I put up a new post) or the weekly summary.
Use your printable checklist everyday without re-printing!
The image on the printable can be trimmed to fit in an 8×10 frame. Hang it on your wall, mark off the checklist with a dry-erase marker, take a photo to post on Facebook . . . then wipe it off and repeat the next day!
I made it colorful, but you can print it in Black and White. (I did! And on green recycled paper!)
Go here to sign up as an email subscriber. (If you're already one, click on the link within the email to access the printable.)
What should you do if those four tasks make you hyperventilate and feel overwhelmed?  For detailed guides, check out my books: How to Manage Your Home Without Losing Your Mind and Decluttering at the Speed of Life. They talk you through the development of habits and help you work through the stumbling blocks you'll face.
This is going to be fun!!
Be sure to follow me on Instagram where I'll share in real time. Use the hashtag #survivesummer to play along!
Save
--Nony