You can always count on me for amazingly useful information, right?
Anyway . . . I thought I'd share a lovely little trick I've been using. I didn't come up with it, though. A woman at our pool does this in the summer, but I never thought much about it until I was wishing I could read my new Kindle in the bathtub.
I stuck it in a gallon-sized Ziploc bag. This works great with (affiliate link alert!) my bottom-of-the-line basic one
 with a touch screen and I've been told it works great with Kindle Fires, too!
I've actually decided I like quart sized bags better, but I use whichever I have on hand!
And there you go. Simple.
Disclaimers and Legal Warnings:
Sticking your Kindle in a plastic bag makes it water resistant but not waterproof. Don't submerge it in the water and try to read while you're rinsing your hair.
A Kindle in a plastic bag is not a toy. Don't trust anyone under the age of 28-and-a-half or anyone who didn't spend their very own hard-earned money to buy that Kindle to use this trick. If you want a bathtub toy, go to the bathtub toy aisle at the store. But don't get the ones that suck up water. They get nasty.
Be sure your plastic bag is tightly sealed. Test it by gently tugging to see if it will open, not by shaking it really hard over a tile floor or a wide-mouth garbage disposal. Or a cliff.
Use a clear plastic bag so you can see through it. Don't stick your head inside the plastic bag to read the Kindle.
The plastic bag will only protect from water splashes. Do not drop your Kindle, sit on your Kindle, throw your Kindle, or step on it.
I have no idea if anything bad could happen from a Kindle not having air for a prolonged time, but just in case . . . when your fingers get pruney, carefully step out of your bathtub onto a non-skid mat, dry yourself off and then remove the Kindle from the plastic bag.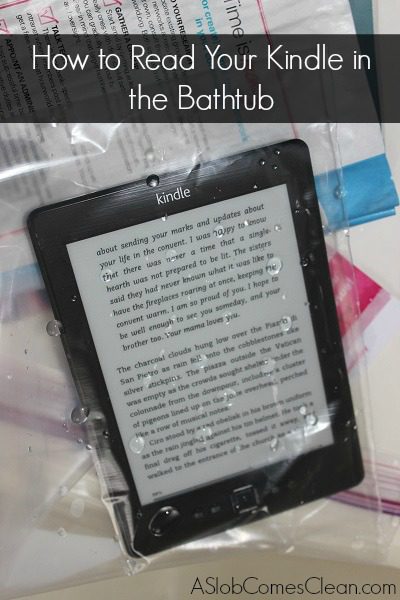 --Nony