This is my loveseat today.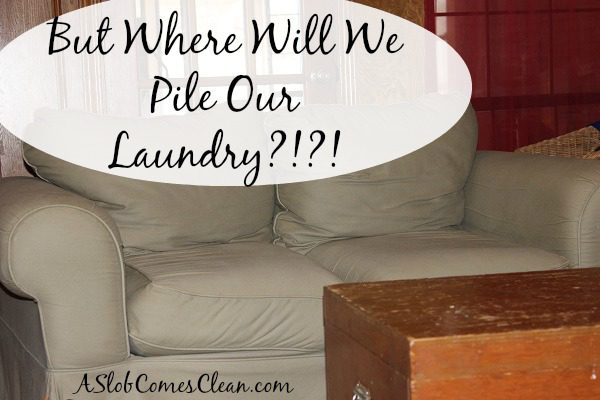 This was my loveseat before last night.
Now in my (lame) defense, that was not a current before picture. That was a day-after-Christmas before picture.
We had come home on the afternoon of Christmas Eve after spending two days with my family. We baked cookies (and more), opened our family gifts, awakened on Christmas morning to find what Santa brought, and left by 11 a.m. to spend Christmas Day and evening with the in-laws.
I'm pretty sure this picture was taken AFTER the two-hour nap we took when we got home.
The point of the picture is the laundry pile. And how it was there the day after Christmas and was still there last night. Last night, we finally had a lovely Family Folding Time and cleared it off.
Wait. Haven't I shared/bragged about how I don't make Clean Laundry Piles anymore? How my world has been rocked by the Put It Away Immediately Out of the Dryer method?
Well, yes. I have.
It's just that my family hasn't quite caught on to that life-changing concept yet.
And when things get crazy and Hubby offers to run a few loads of laundry so we'll have non-stinky clothes to wear to Grandma's house, I'm not going to complain that he doesn't do things exactly how I do them.
I might have had to bite my tongue a little, but I didn't complain.
I saved my self-righteous speech-giving for later.
At the furniture store.
See, I've been noticing lately how our family is growing. Not in numbers, but in size. I have one who will be a teenager in LESS than a year (yikes!) and another close behind that. Even with the loveseat generally sit-on-able, our lounge space doesn't really fit the family. So I've decided I want to get two small recliners to replace the loveseat.
As we shopped over Christmas break, my daughter exclaimed in alarm . . . "But where will we put the clean laundry?" 
(Breathe from the diaphragm. This allows for long and passionate sentences.)
"Well. I'm surprised you haven't noticed that we almost never have clean laundry on the loveseat anymore. I don't put it there anymore. Nope. I fold it straight out of the dryer and put it away immediately."
I was surprised they hadn't noticed and they were surprised to hear of this thing they hadn't noticed.
Whatever.
If you need help getting laundry and clutter under control, my books will help: How to Manage Your Home without Losing Your Mind and Decluttering at The Speed of Life are available at your favorite bookseller!
--Nony