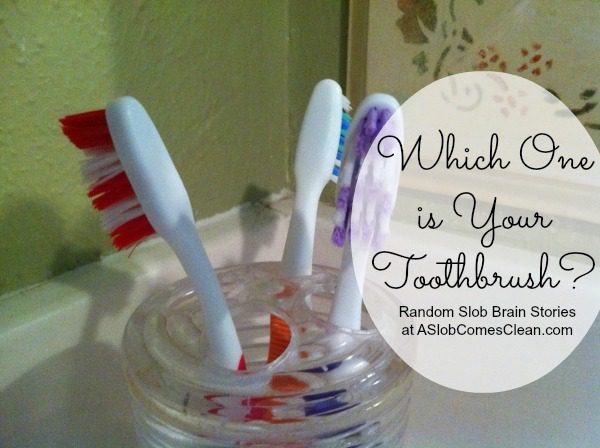 On Monday, my boys ran in a triathlon for kids.  The younger one did a triathlon last year, so it wasn't a totally new thing for us.
So I wasn't as paranoid about what it would be like, or about having everything ready.
Which is good and bad.
We spent the night at my parents' house the night before since it was near their home and we needed to be there at 5 a.m.
I didn't start packing until about an hour before I had to take the kids to an audition for a local play. Hubby was going to finish loading the car and then pick us up to leave from there.
A few minutes after he dropped us at the audition, he texted:
It did take me a moment when he said, "What color is yours?"
I have my very own sink.
I have my very own toothbrush holder.
Even if I didn't, he's the one I share my bathroom with and in a normal situation, he would surely be able to tell which toothbrush was mine by eliminating his own.
But no.
This is not a normal situation.
This is me.
And my personal toothbrush holder has three toothbrushes in it.
I don't remember why I stopped using the blue one and the purple one, but I did. And every morning, I choose the red one because I know there's something wrong with the other two.
Not wrong enough to throw them away (like if they had been used to clean toilets or had dropped on the floor or something), but wrong enough that I got a new one out.
I have no justification for why they were still in there.  It never even occurred to me to throw them away until I saw it through my husband's eyes.
But now they're gone. They're waiting in the dishwasher to be sanitized and then used for toilet-scrubbing or some other not-in-my-mouth task.
Sometimes decluttering produces Duh Moments.
Sometimes Duh Moments produce decluttering.
Save
Save
--Nony