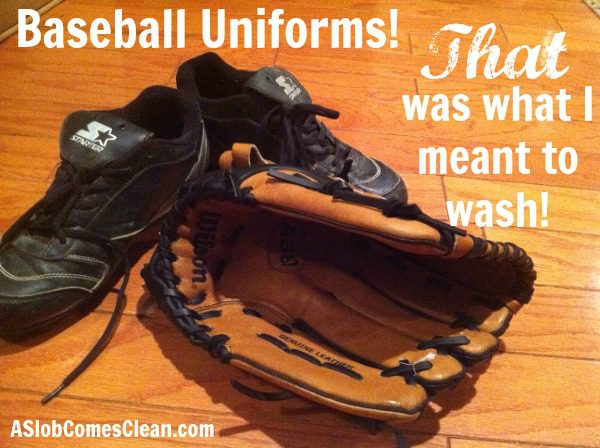 I realized last week that my boys' baseball uniforms hadn't been washed.
Like . . . yet.
And we were at the end of the second week of our two-games-a-week season.
They have inherited my ability to lose things.  And uniform pieces simply can't be lost. You can get away with wearing Daddy's dress socks when your navy baseball socks mysteriously disappear (really, we know this), but you sure better keep up with your #5 jersey since it's one of a kind.
We're all about solutions around here, so my 11yo in particular has been rather obsessive about immediately putting all baseball uniform items in a specific place as they come off.
Which is great.
But . . . that specific place doesn't get noticed during the Sunday Evening Family Laundry Sorting time.
And it only ever occurs to me to wash the uniforms as I see them walk up to bat that first time with lovely sand-colored slide-marks down the sides of the pants.
So Monday, I washed them.  AND dried them before game time that night.
I'll just go ahead and pat myself on the back and be happy that on Monday . . . these uniforms were WASHED!!!
Even if it's the only time they get washed all season (surely not, right?), they're clean for now!!
P.S. Obviously, I gave up long ago on the dream of washing them twice a week, after every single game. It was never going to happen anyway . . .