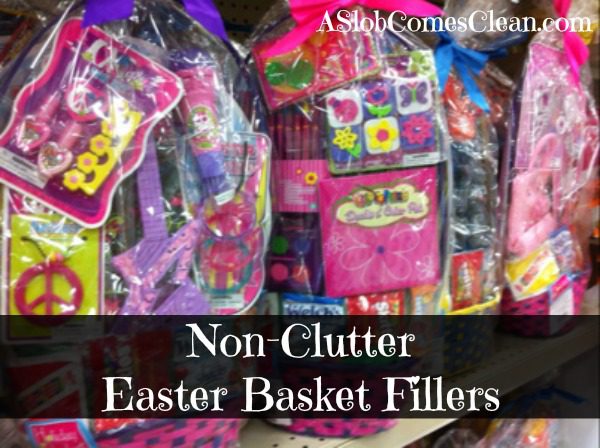 (Click here to re-pin this post.)
What do you see in that picture?
I see clutter.
As fun as a cymbal-clapping bunny may be for a whole three seconds, I don't want to have to find a home for him/her/it.
I remember longing for these pre-made baskets as a child. Then I finally got one.
After that, I was glad they weren't the norm in our home. In case you never received one, they are mostly filler. Like, the only things in them are the things you see.
The rest is cardboard.
And air.
Totally disappointing.
Even though I don't do the pre-made baskets for my own kids, I struggle with avoiding the cutesy, plastic, nothings that populate the Easter aisle.
I asked for non-clutter Easter basket filler suggestions yesterday on Facebook, and you all delivered.
Here are some of my favorite suggestions:
Clothes. I never would have thought to do this, but it's a great idea as the weather is warming up and my kids need some summer basics. And clothes take up SPACE. Yessss!
Toothbrushes and toothpaste. I've done this before, but needed to be reminded. (Love spending on things we would spend on anyway!)
Baseball glove and hat. Love this idea. Not sure we'll use it, but if we needed these things this would be the perfect time since baseball starts next month.
Fun band-aids.
Socks! Yep. My kids are getting some. They'll be thrilled.
Books and DVDs.
Art supplies.
Outside spring toys – Kites, jump ropes.
Re-usable water bottles.
Age-appropriate Bibles.
Bathing suit, swim goggles, pool toys, sunscreen. (I like the idea of getting stuff for summer!)
Flip-flops. (I LOVE this. Totally doing it.)
Gardening stuff.
Summer pajamas.
And more! You can see everyone's suggestions here on the Facebook thread.
Want to share this post? Click here to re-pin it!
Save
--Nony