I blog about my deep, dark secret.
It's why I'm "Nony" here. Short for aNONYmous, I never, ever planned on putting my face to that name.
But a lot has changed over the past almost-four years.
My deep, dark secret is now my (full-time-hours/part-time-pay) job. And I've stopped hiding.
I still don't immediately volunteer the information upon meeting someone, but I don't go to great lengths to hide it, either.
Short lengths, yes.
Here is a sample conversation:
Them: So what do you do?

Me: I work from home.

Them: Oh. Cool. What do you do?

Me: I write.

Them: What do you write?

Me: Mostly online.

Them: Like what?

Me: Oh, freelance and e-books. And I have a . . . blog.

Them: What's your blog about?

Me: Cleaning. Organizing.

Them: Really? What's it called?

Me: asmbfmalea

Them: What did you say?

Me: A Slob Comes Clean

Them: (eyes widened and slightly bewildered, smile frozen in an attempt to not look shocked or horrified) A What Comes Clean?

Me: SloB. (Emphasis on the "B")

Them: Oh. That's what I thought you said. Then I thought . . . oh never mind. Ummm. That's cool.
I make them work for it.
And then I went to Blissdom. I've been to a few other conferences, but this one is BIG. And all about blogging, so I really don't have time to drag out every question.
I still get the double-takes and the wide-eyes and the "I'm sorry, what?s."
But I also get acceptance. People in these situations only know me (and have only ever known me) as a slob. And they act like me declaring my deepest, darkest secret to the world is no big deal.
At all.
No, I don't expect the entire world to think it's awesome that I struggle to keep my house from being a sty. But . . . I am constantly amazed at how MANY people truly are kind and accepting.
And two insanely exciting/crazy/mind-boggling moments of the weekend?
#1 – I met Broccoli Cupcake and she shared how she found my blog recently when she googled "Cleaning Blogs" and I was #1.
Ummmm, what? I was (more than) a little excited, and she said, "Well, maybe it was #2" . . . but that didn't matter.
I made everyone I knew google it and indeed, A Slob Comes Clean is #2 for "cleaning blog." Or was. Because I'm sure that can change at ANY moment.
But really, even if that were only the case for a moment in time . . . it's a big deal.
I get the irony, and I'm so incredibly grateful.
#2 – I met the ladies of Office Candy when I won a prize from their unbelievably adorable selection of pink and artsy and girly office supplies/organizing products.
And they were excited to meet me.
And tweeted this:
A celebrity to us, @aslobcomesclean won our @officecandygals goodies, yippee! Thrilled to have met you, enjoy! twitter.com/OfficeCandyGal…

— Office Candy (@OfficeCandyGals) March 24, 2013
They said they had been hoping they would get to meet me at NAPO. NAPO is the National Association of PROFESSIONAL ORGANIZERS.
I said, "Ummm, have you read my blog? Do you know what it's actually about?"
They swore they had and that they love it. One of them is a PROFESSIONAL ORGANIZER.
Which means, there is at least one professional organizer out there who gets it. This meant a lot to me.
I could blab on and on. But I wanted to give you hope that there are people out there who are kind and accepting. Even Normal People. I'm so thankful for that.
And I also wanted to show this picture, just because I love it: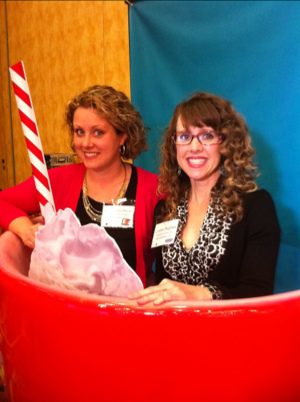 That's Connie (Smockity Frocks) who agreed to be my roommate, even though I'm a slob. We're in a coffee cup.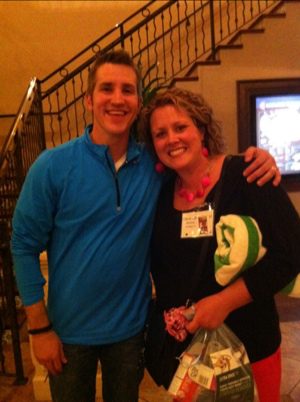 And that's me with Jon Acuff, who spoke. He's my husband's favorite blogger.