(Click here if you can't see the video.)
I shared in the Series Finale of the Master Bedroom Saga last week that I spent part of that final day decluttering the dresser.
It was its own project, so I am giving it its own post and webisode.
Basically, I had things in my drawers that hadn't been worn in forever. All of the stuff piled on top of the dresser was the stuff I actually wear.  But . . . I couldn't fit the good stuff in the dresser because the bad stuff was taking up all the drawer space.
When the room as a whole was a disaster, it wasn't really that big of a deal for the dresser to look like this: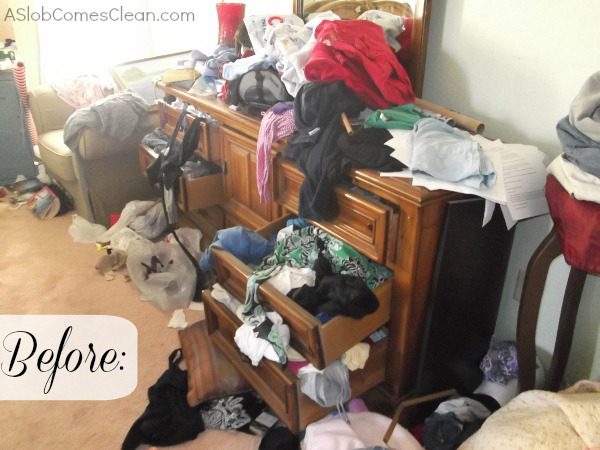 But if I was going to tackle the whole room, something (obviously) had to be done.
Obviously.
I had looked through these drawers many times, and hadn't been able to part with certain never-worn items because of their sentimental value.
For example:
I bought the one on the left in London when I traveled there to visit a friend about a year after I graduated from college.
I bought the one in the middle at a Theatre conference when I was in college.
I bought the one on the right when I lived in Thailand.
See how they each have special memories attached?  See how they're each more than fourteen years old?
But I was ready.
I had so thoroughly enjoyed my mostly-decluttered master bedroom for two months last fall.  These t-shirts were taking up precious drawer space, and that lack of space was the cause of a major eyesore in the room.
I was finally ready to part with them forever.
Memories are great, but a livable Master Bedroom is better. 
In the end, I decluttered more than I kept.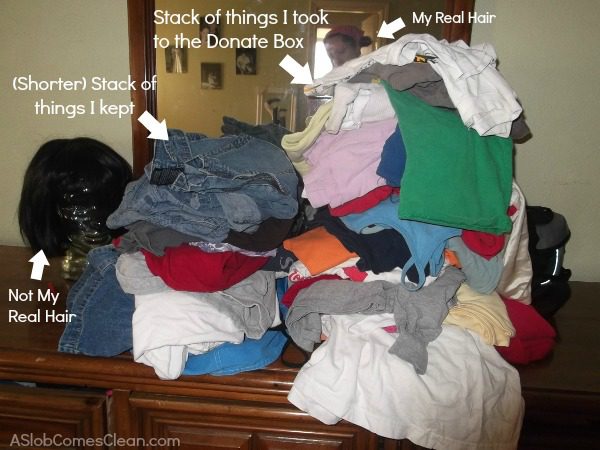 I even ended up with an empty drawer.
Empty.
And I wasn't tempted to go back through the stack of decluttered stuff and pick out a few things to keep. . .
That's progress, people. 
And here's the after shot:
I really wish I'd made the bed before I tackled the dresser.