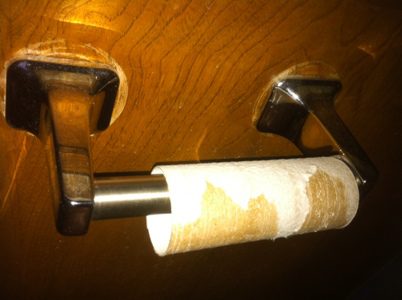 When my oldest was between the ages of 3 1/2 and 4 1/2 (I know because we were living in our rent house), he came to me with some exciting news.
He had figured out something cool.
Something that would surely be a new and exciting revelation to his mother.
Because he knew, for a fact . . . that this was something I did not know.
He had figured out how Other People got their toilet paper rolls onto those little bars on the wall.
Mmm-hmmm.
I said "It's a hassle" in the title of this post, but I really don't have an excuse.
At all.
I just never think to do it.
Ever.
Not until I check the bathroom right before the doorbell is scheduled to ring.
And that's just the guest bathroom . . .
But I did think of it yesterday.  And that probably had something to do with the fact that I'm writing this series about excuses.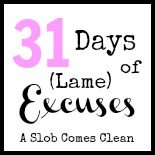 [Circle of Moms Top 25 Home Management Moms – 2012 – Vote for me!]  I'm sorry.  This contest has now ended.