Crazy day today.
My appliances are being delivered!!!
To say I'm excited is an understatement. I had a hard time sleeping last night.
The delivery was scheduled for 8 a.m. and yesterday was my busiest day of the week.
And I was out of town last week.
And Monday was spent with my family on their day off from school.
And Tuesday I was just trying to get caught up.
(Yes, I know you're getting a quadruple dose of excuses in this post.)
I decided to be proud of the fact that my house isn't as bad as it COULD be.  Other than a little dining table clearing, I didn't do much.
All the areas they would need to see were at least walk-through-able.
And then they asked about the breaker box.
Of course . . . the breaker box.
Duh.
Installing appliances means turning off electricity. Turning off electricity means going to the breaker box.
Going to the breaker box means entering my boys' room. And looking in their closet.
Oh . . . the shame.
I didn't say "opening up their closet."  Y'know . . . since the door won't even shut right now.
Oh well. My blog is called A Slob Comes Clean. I'd hate to not give them anything to talk about with their wives tonight.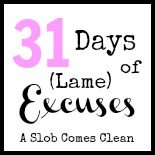 Circle of Moms Top 25 Home Management Moms – 2012 – Vote for me!  I'm sorry.  This contest has now ended.