I didn't post yesterday.
It was only the seventh day of October, and I already failed in this 31 Days of (Lame) Excuses thing.
I could quit.
But I won't.
Failure and quitting aren't the same thing.
I can't go back in time and write a post for yesterday.  Technically, the challenge to post every day in October hasn't been met.
But I won't quit.  Just like I'm not going to quit because I didn't do a stitch of laundry today.  Even though it's Monday.
Nope.  Days like this happen.  When the family's all home for Columbus Day and you go to a movie together instead of getting the weekly task finished . . . you just pick up the next day and make it work.
Perfection really isn't the point, anyway.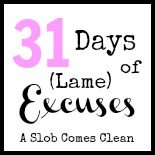 Oh, and thanks to one of you for nominating me again for the Top 25 Home Management Blogs over at Circle of Moms!  I'd love to win!  It's a simple click to vote for me over there, no signing in necessary and you can vote once per day!
[Circle of Moms Top 25 Home Management Moms – 2012 – Vote for me!]  I'm sorry.  This contest has ended.