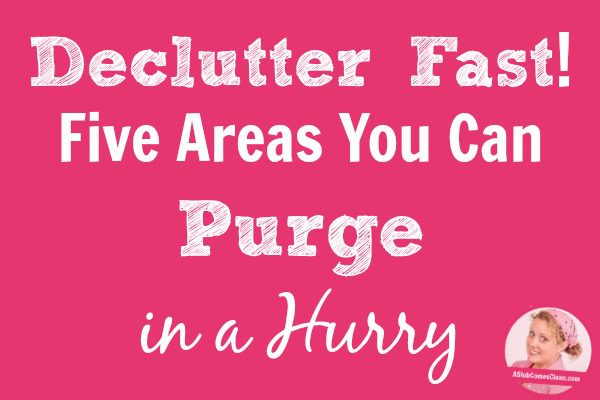 Do you ever get the itch to declutter?
Or maybe it's the shakes. 
I usually get this icky feeling right after I've been frantically searching for something that should have been easily found.
I feel a sudden desperation  to declutter.  To declutter FAST.  As if my life (more likely my sanity) depends on it.
In these moments, I DON'T recommend starting a huge project like the one I undertook in my master bedroom.  Because these moments come and go so quickly (unfortunately), I find it helps if I can scratch the itch or calm the shakes by focusing on an area that will look significantly better with just a few minutes of decluttering.  That small success helps me gain momentum to tackle more (and bigger) projects.
1.  Books
A quick and purposeful look at one of my bookshelves often reveals quite a few books that I've passed over multiple times.  If they haven't appealed to me yet, they likely never will.  Getting rid of five books on an overcrowded shelf can make a big visual difference.
2.  Empty Containers
In the shower.  On the bathroom counter.  In the pantry. On top of the dryer.
I seem to end up with empty containers in various places where empty containers really shouldn't be.  If I can focus on just pitching empty containers in a specific space . . . that space looks better in minutes.
3.  Paper Piles
Paper overwhelms me.  But when I face a pile head on, it rarely wins.
Rarely.
I'm always amazed at what I can accomplish in five minutes of focusing on a single pile.  If I have a trash can at my side, the pile shrinks pretty quickly.  If there's still a pile and I can't keep going after five minutes . . . a straightened, SHORTER pile will definitely look better than when I started.
4.  Medicine
Medicine isn't visible if it's put away, but since we keep ours in the cabinet, it becomes visible when it breeds and begins to push other things out of their space.  Medicine is easy to purge because it has an expiration date.  Five minutes isn't long enough to analyze the facts and determine whether you will ever have back pain again, but it's long enough to reduce the amount of medicine in your cabinet by getting rid of anything expired.
5.  Pens
I don't know about you, but I find huge amounts of pens all around my house.  Basically, I find them everywhere except where I need them.
Then half (or more) don't work when I find them.  Taking five minutes to go through the house gathering pens, testing them quickly to be sure they actually WRITE, and then placing them (ONLY the ones that write) in a defined container will make a visual difference in the spaces where you gathered the pens, and a mental difference in you when you realize the computer on the other end of the phone has already started spouting off the confirmation number you need to write down.
What things you can declutter in a hurry?
My newest book, Decluttering at the Speed of Life is now available wherever books are sold!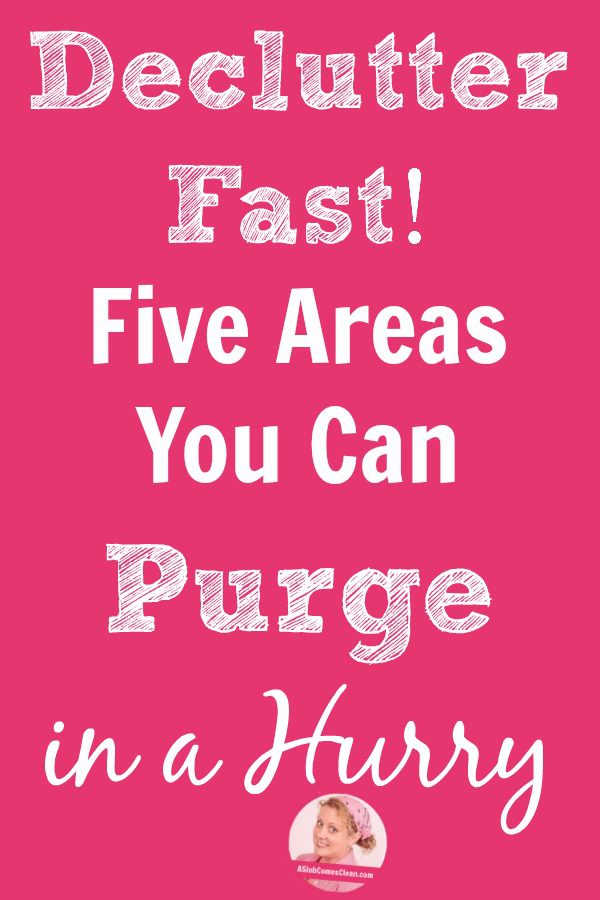 Does even the thought of decluttering overwhelm you? Sign up for my newsletter and get my reality-tested decluttering solutions delivered to your inbox for free.
Save
Save
Save