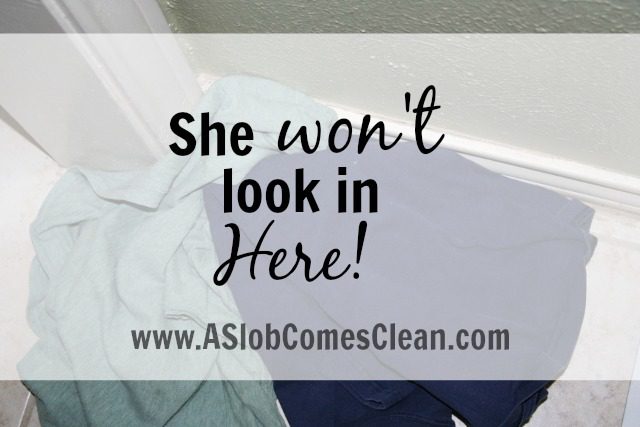 I promise, it's not Mother In Law Week around here.
But really, a visit from an MIL is pretty much guaranteed to inspire a few posts for a Slob Blogger.
As I was frantically getting my house cleaned up for her visit last Friday, I stopped for a moment to . . . well . . . you know.
Anyway, as I was sitting there for a moment, I looked down and saw a small pile of clothes at my feet.  (Picture above is a re-enactment staged for the sake of appropriateness of the clothing items.)
Perhaps it was because I was in Cleaning Mode that I even registered this pile of clothes.
Registered that they were there, and that they needed to be moved.  But then my natural slob instinct kicked in and I REASONED that there was no need to move them.
Y'know, since no one would be using that bathroom.
The fact that maybe they should be moved JUST BECAUSE they're dirty and don't actually go there . . . didn't count as a reason.
Thankfully, I went against my ever-so-persuasive Slob Logic and moved the small pile to the big pile where the dirty laundry is actually supposed to go.