It's been a busy week, and after the 90-minute transformation of my master bedroom . . . I really didn't feel like decluttering any more this week.
At all.
But then I remembered Simple Mom's Project Simplify and checked what the area of focus was for this week.  Closets, drawers, and counters.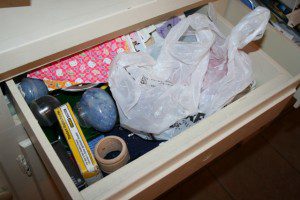 I kind of took it as an "or drawers" though, and decided that I could force myself to do one drawer.
Besides, I've pretty much decided to have a garage sale in the next month or so, and that means I need to be more purposeful about going through hidden places that tend to collect totally useful stuff that I don't actually need.
Y'know, prime garage sale inventory.
Soooo, I chose a small drawer which rarely gets opened and is between two other drawers that rarely get opened.
I was determined to do just one drawer.
I got out my sorting supplies, and made quick work of the first drawer.  Like, five minutes of quick work.
Mostly, I removed crafty stuff.  I suffer from Delusions of Craftiness, but a lot of this was stuff that I did use at one time.
There were quite a few bow-making supplies.  I could fully let go of that delusion since it's a rare day when my almost-six-year-old daughter wants to wear a bow.
Then there were the stickers.  The stickers were the reason I ended up doing two drawers.
The answer to my first (of only two) decluttering questions is that I would look for stickers in this/these drawers.  One or the other.  Or one and then the other.
I had no problem shoving the few sticker sheets into the other drawer and calling that progress.  But when I opened that blankety-blank "other" drawer to do the shoving, I saw how it really needed the same treatment.
In another three minutes, the second drawer was done.
Basically, I got rid of everything except some (truly) keepsake Valentines, a super-awesome cheese server thingy I got in New Zealand back in my single-girl-world-traveler days, and the glue gun.
Oh, and the stickers.
There you go.  Two drawers done in about eight minutes.
One more small box of clutter leaving the house.
_________________________________________
Oh, and there's a new Swagbucks sign-up code that will get first-time sign-ups 70 bonus swagbucks if they enter the code DURING the sign-up process!  The code: MARCHSWAG
Don't know what Swagbucks are?  Go here to read my explanation.  (Any links to swagbucks from this site are my referral links!)