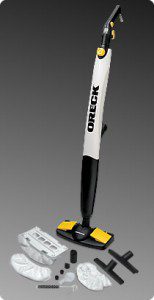 I've dreamed of having a steam mop for years.  Surely . . . if I had a steam mop, my house would be clean.
All the time.
Cleaning would be fun and easy and motivation would be plentiful.
Right?
Over the past two years of figuring out my Slob Brain, I've realized that no tool or system is going to clean my house.  I have to clean my house.  Tools are . . . tools.  They help, but I've yet to find one that crawls out of the box by itself and works while I sleep.
So . . . when Oreck contacted me about reviewing the Oreck Steam-It steam mop, my first reaction was:
Woohoo!  Yippee!!!!  Now all my slob problems will be solved!!!!!
Then . . . in an effort to be a mature and responsible slob blogger, I asked if I could have three (which turned into four) weeks to use it in my normal weekly cleaning tasks before doing the review.  I wanted to be thorough.  And realistic.
Is it something that I will use consistently?  Does it fit into the cleaning routine I've already developed?  Is it worth it to me to get it out regularly, fill it with water, and plug it in?
As someone whose brain tends toward cleaning excuses more than cleaning motivation on most days, these were important questions.
I decided to use it first in my boys' bathroom.  My very stinky boys' bathroom. The one that Normal Friend couldn't even fix.  No mamby-pamby let's-see-if-it-will-clean-up-spilled-milk testing around here. This reviewer's house comes complete with cleaning tasks that no mop or stinky chemical has been able to conquer.
I'll admit that I was a little overwhelmed when I opened the box and saw all of the attachments.  I read the instruction book and decided the piece that allows it to shoot a concentrated spray of steam was best for this job.
I filled the steam mop with water using the handy-dandy funnel provided, plugged it in, hit the heat button . . . and waited 30 seconds to push the steam button.  I started steaming all around the toilet and soon realized that my steam mop fantasy hadn't been completely accurate.  The steam spray (say that fifteen times in a row) blasts the icky stuff and loosens it and even moves it out of the cracks, but it doesn't make it disappear. You have to then wipe up the loosened dirt/don't-want-to-know-what-that-is.
Once I thought about it, it made sense.  A blast of steam isn't going to make something disappear.  But it does loosen it, and gets into places where other cleaning products/tools haven't been able to.  A quick wipe up with an old cloth diaper, and it was clean.
Once I had cleaned the toilet itself, I decided to put this steam mop to the real test.  Behind the toilet.  The toilet that (about a year ago) my husband was sure had a leak because it stunk so bad in there.  We even called a plumber who removed the entire toilet and discovered that we did NOT have a leak, just some boys with terrible aim.  And when mothers with these kinds of boys neglect the hopeless bathroom for long enough, it gets bad.  As in, this dried up yellowy-brown stuff is solid and doesn't come up with scrubbing, but it's not grout:
I used the Steam-It on this spot, and was disappointed that I couldn't see a difference.  But I wiped it anyway, and saw quite a bit had come up on my rag.  So I sprayed it again, and saw that it was starting to break down.  I ended up using an old toothbrush (which is now in the city dump) to scrub it, and steamed it about six or seven times, scrubbing and wiping in between each time.
It ended up looking like this:
A HUGE improvement.
I also used the mop attachment to mop my kitchen.  It did a great job.  I love that the cloths used for mopping are washable.  But just a caution for those who like disposable products that are always bright white when you pull them out of the box . . . my cloths didn't get perfectly white after putting them through the wash.  It doesn't bother me in the least, because I know they're clean, but just a warning.
Overall, I do love this steam mop by Oreck.  By the third week that I used it, I felt comfortable putting the attachments on, knowing which ones to use for which tasks, etc.  That's often my problem with wonder products. I don't use them enough to truly understand them, and then don't feel like adding the learning curve time to my dreaded cleaning time,.  Then they just sit in the laundry room unused.
Honestly, the Steam-It is pricey.  Most of the things that it does can be done with lots of elbow grease and lots of chemicals.
With that said, it is a great tool. It allowed me to clean that behind-the-potty area that had previously been an unconquerable task for me.  And finally, the bathroom doesn't stink. Which is a big deal.  I can't even express how frustrating it was to clean in there and have it still stink when I was done.
I also do love the fact that it eliminates the need for chemicals on many of my cleaning tasks.  That cuts down on costs, icky fumes, and the whole I-need-to-clean-this-but-I'd-have-to-open-every-window-in-the-house-so-I-could-breathe-and-it's-too-cold-outside excuse.
I'm past 886 words and need to stop, but I could write more and more about my experience.  Watch my video review if you want some to know more!
Disclosure: Oreck sent me this product for free, but the opinions and experiences are all mine.