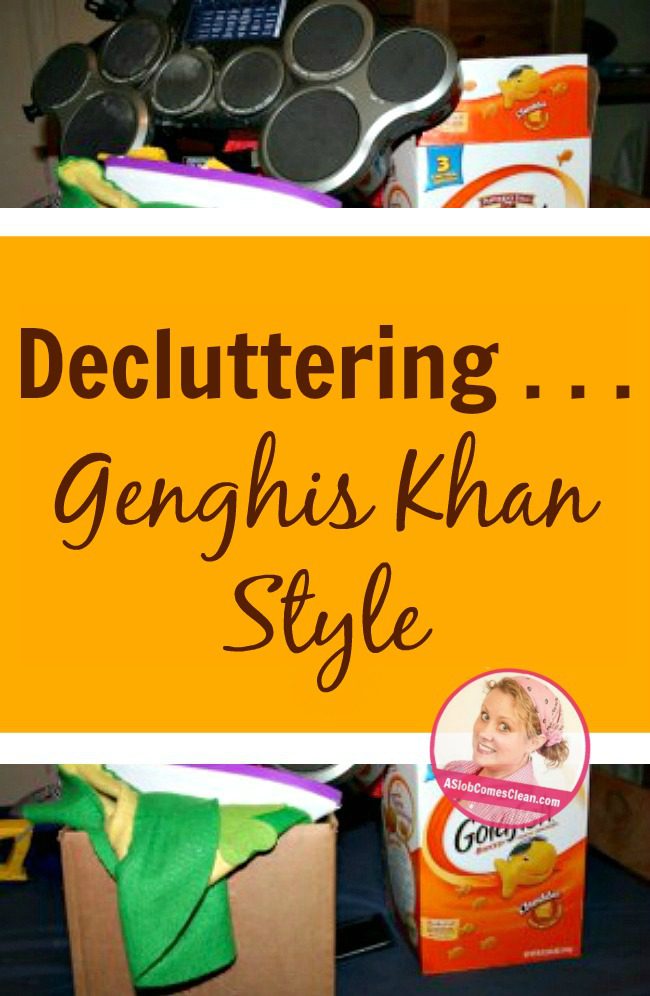 Last Saturday, I had the opportunity to see the Genghis Khan exhibit at the Irving Arts Center in Irving, TX.
I'll be honest.  I've never thought much about Genghis Khan other than some vague memories of him as a peripheral character in Mulan
.
But I love to broaden my horizons, expand my understanding of the world, and expose my kids to the fact that people in history were real, and that not everyone lives/lived the way we do in our little town.
It was fun.  They got to try on armor, shoot trebuchets (catapults), dig for artifacts, and see a real live mummy.
Which was creepy.
But the thing I tried to point out over and over to them was that these people were nomads.  They lived in tents.  And moved . . . a lot.  Carrying all their stuff with them.
Which makes you think about which things are worth carrying.
So on Tuesday, I told them we were going to do a little experiment.  We again discussed which things these people likely had to carry from place to place.  Dishes, clothes, their tents, etc.  We talked about how if our family lived this way, Daddy would probably do a lot of the carrying.
But he would carry the stuff we needed.  Who would carry their toys?
Easy answer:  They would.
So, I gave each of the boys a small(ish) box that they could carry themselves, and told them to put into it their very favorite things.  The things they would be willing to carry.
One boy had a hard time filling his up.
The other . . . not so much.
I let him make a pile of stuffed animals that wouldn't fit in the box.  The point wasn't to limit them to one box of belongings.  It was to help them differentiate the things they really love from the things they just think are cool to have.
More than I expected, viewing their possessions from this perspective was extremely effective.  We started going through the room, putting most of the things that hadn't made the cut into the trash or a Donate Bag.  Since they had already decided what was important, the little pieces of junk were easier to part with.  Only long-lost treasures were added to the soon-overflowing boxes.
And the best part?  They're glad we worked in their room. As my 7yo said (several times), "I never thought I'd say this Mom, but I'm so glad you made us do that!"
It's amazing how much more fun it is to play in a room where you can actually find things.
Through Business 2 Blogger and the Irving Arts Center, I was provided with tickets to this event and am being compensated for my time in writing this post.
I'm linking this up over at Orgjunkie.com.
Save