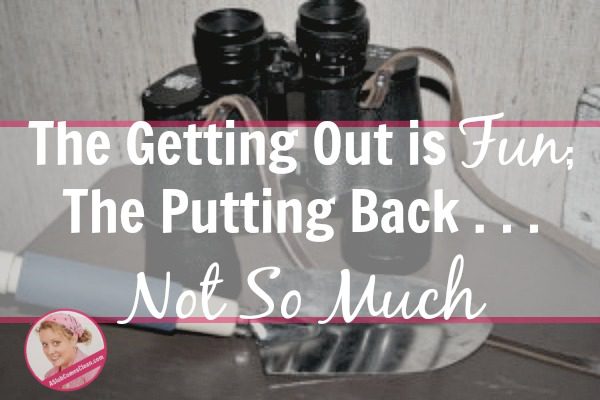 I've shared that this week has been a crazy-fun week of VBS at our church.  My duties include acting in silly skits and taking pictures for each day's PowerPoint slide show of the story.
Both of which involve . . . props.
As a former Theatre teacher, and continual small-time-drama person, I love props.
For years, they were a great excuse for all of my clutter.
Each night this week, I've dug through drawers and closets and asked, "Kids, do you know where the _________ is?"
I fill my Walmart bag and get it to the right place at the right time.  I mean, it wouldn't be acceptable to not have that pair of binoculars where it's supposed to be, on cue.
But once the cue is over, and I've moved on to the next scene?
It's very hard for me to care about putting it back where it goes.
Most . . . end up in a bag on the floorboard of the car, or on the bench just inside the backdoor, or even worse . . . in a closet of the church which likely won't be cleaned out for another twenty years.
___________________
And just a warning, June is coming to an end!!!  Which means that I'll share my June decluttering progress on Friday, July 1.  (Post should go live at 10 pm central, Thursday.)  Since I've decluttered very little this month, I'm planning to find five "no-brainer" things to throw away so I'll have something to report.  I'd love to have you join in with a report of your decluttering efforts in June, or with a list of "no-brainers" you find in your own home!