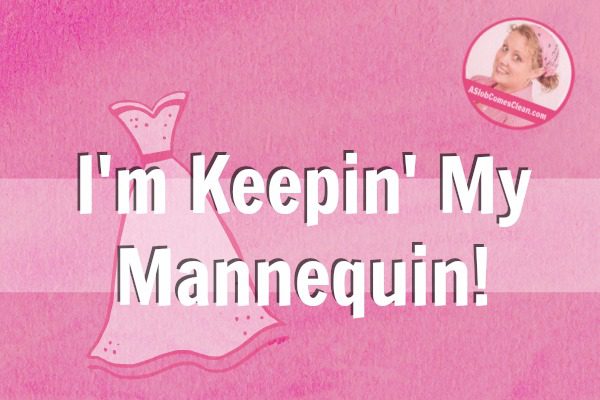 Last fall, when I painted the office/game room, I moved a lot of the big stuff out into the garage. That "big stuff" included my mannequin. I loved the room so much, that once it was painted I never brought the mannequin back in. It has stayed in the garage, slowly being surrounded by the results of my decluttering efforts. I've mostly ignored it, occasionally questioning whether I should get rid of it, but never making a decision.
Yesterday, I worked hard out there, my fire lit by the approaching deadline of my garage sale next weekend. Months (and months) of passionate decluttering means that there is much organizing to be done. I've made a lot of progress, and finally made my way to the mannequin.
I debated getting rid of it. I have declared that I have a new "If I don't actually need it, I'm throwing it out!" mentality.
I guess I lied.
I can't think of a legitimate reason to have a mannequin.
But I still want it.
I mean, they're not exactly the easiest things to come by. I hauled this one (and my friend got to carry his twin) through a mall when I was in college. Yes, I purchased it . . . thank you very much.
I've had it for all of these years (tragically, the twin has been lost) and it made a great addition to my Theatre Arts classroom when I taught. It's male, but headless, and fairly slender, so he looks pretty good in a dress.
I used to have some silk pajamas on him that I bought in Hong Kong. I loved that look, but after ripping them off when I needed a costume, I never re-dressed him.
I've decided to keep him. And he's back inside. I'm thinking I'll put his clothes back on, call him female and put him in that blank corner of the living room.
And besides, s/he's my daughter's new best friend. They talk and talk. They do lots of hugging, as s/he has adjustable-wooden-handless arms. She has named *her* after me, and I'm flattered.
My daughter has an obsession with anything life-sized. If we run into Walgreen's in a hurry, I have to add to my planned time allotment for her to have a conversation with the m & m character display that is exactly her height.
Thankfully, my mannequin's headlessness doesn't seem to be an issue for her. She's very accepting.
Save