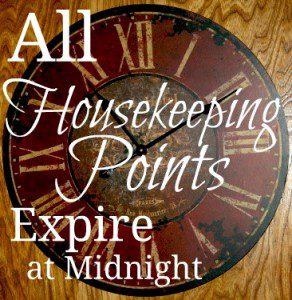 My husband and I were part of a class that watched a video series called Marriage on the Rock. We liked it, but it didn't really fit a Sunday morning class schedule, so I don't think we finished it. However, there is one phrase that we continue to use.
"All points expire at midnight."
The speaker's point was directed to husbands. His idea was that men generally want the credit ("relationship points" earned) for taking out trash, saying sweet things, etc. to last through to their next mistake. For example, if he forgets once to lower the toilet seat, his wife should be thankful for all of the times when he remembers, rather than be mad about the one time when he forgets. But alas, all points expire at midnight. All of the couples there got a big kick out of this because it seemed that everyone could relate. (No men-bashing here, because in my opinion women are the same way.)
Anyway, this phrase came into my head yesterday when thinking about some of my classic excuses. My biggest one, and the one that gets me in the most trouble, is thinking that I shouldn't have to clean something because "I just did that."
Last week I mopped. It had only been one week since I mopped before that (normal for most people, huge accomplishment for me), but a glass of sprite from our stomach-bug-week had been knocked over and our feet were literally sticking to the floor. I was very proud of myself. I mean, twice in two weeks?!? I must really have this housekeeping thing down, right?
And then, the next day, my foot stuck to the floor again. Just in one little spot near the dishwasher, but it happened a few times until I couldn't pretend it was my imagination anymore.
And do you know what thought went through my ever-so-mature brain?
"I shouldn't have to mop again because I just mopped yesterday, and it had only been a week before that."
Shouldn't have to. Yes . . . . well . . . . .
This is one of those thought patterns that come so naturally to me that I'm working very hard to change. I'm fully aware of how ridiculous these types of thoughts are. I'm fully aware of the result of allowing myself to act or not act on these types of thoughts, having seen the evidence in my totally chaotic home for years.
Fully aware or not, the thoughts still pop in my head. So now I have to recognize them for their idiocy, and choose to act correctly/logically/maturely/etc.ly in spite of them.
After all, "All (housekeeping) points expire at midnight."