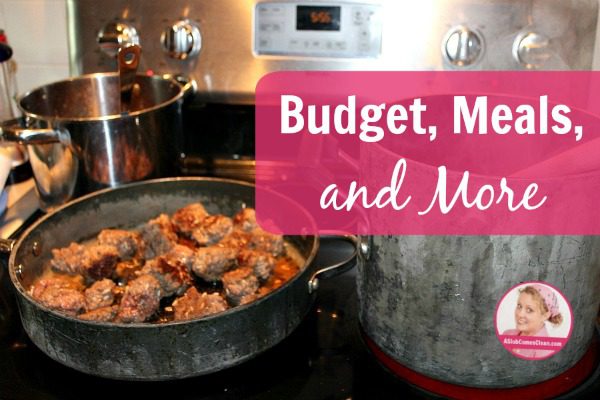 I'm enjoying the challenge of eating from our pantry and limiting my grocery/household spending to 50 in cash per week this month. Being a natural cheapskate, I get quite a rush at coming in right on budget.
In the store this week I walked around and got what I needed. Then I picked up what I assumed we needed, like bread, and bacon that was a very-good-price. But then I realized that we didn't need bread yet, and I had bought some bacon at that same very-good-price very recently, and so I took another walk around the store putting things back.
I came to the conclusion as I had deep/out-loud conversations with myself in the grocery stores (thankfully I had my 3yo with me so people thought I was talking to her and didn't lock me up) that I need to make better lists. Knowing exactly what I need because I know what we're going to eat and what we already have is essential to staying within such a tight budget.
We actually followed last week's menu plan. Most weeks I switch something out at the last minute, but since I wasn't buying ANYthing that wasn't specifically needed, I stuck with the menu more closely.
I also stocked up on boneless skinless chicken breasts AND 93% lean ground beef, both at 1.99/lb. I didn't buy as much as I normally would have, but still got enough chicken for four meals and enough ground beef for 5 meals. Not too bad on a 50 dollar budget.
My eyes light up when I see a good price. I have an almost uncontrollable urge to grab "just a few" of something that I know we'll need eventually. Yesterday I stopped myself from buying several things because they weren't on the list. Even though tator tots were on sale, because I had recently inventoried the freezer, I knew that we already had plenty.
I'm not knocking stockpiling. I fully intend to go back to a stockpiling mentality after this month. But this exercise has been so helpful in teaching me both the benefits and the pitfalls of it, so that hopefully in the future, I can be more wise with our money.
I need to apply what I'm learning this month to every type of shopping/gathering I do. Even if something is a great price and I think that we'll surely need it someday, if we already have three, we probably don't need it.
Here's our menu for the week.
Monday – Tator tot casserole
Tuesday – Crockpot beef and gravy – I'm using some cut-up chuck steak I found in the deep freeze. I'll put it in the crockpot with a can of cream of mushroom soup and some beef broth and onions, and it will make its own fabulous gravy as it cooks all day. We'll have this over rice.
Wednesday – Jambalaya
Thursday – Chicken Parmesan – This is something I typically only make when we have people over. I made it on Christmas Eve and was reminded that it is very easy. I need to realize that being with my little family of 5 on a Thursday night IS a special occasion.
Friday – Eat out
Saturday – Broiled shrimp over pasta (found a 2lb package of shrimp in the deep freeze!)
Sunday – Macaroni and cheese with ground beef in it.
I'm linking up to both Money Saving Mom's Pantry Challenge and Menu Plan Monday at orgjunkie.com.