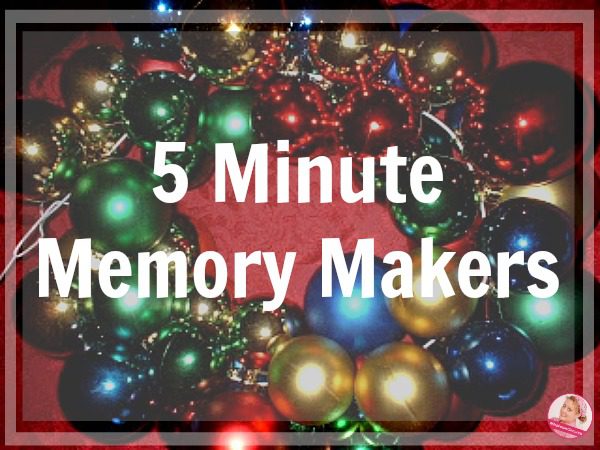 One of the big problems with being a slob, and a mom, is that a house out of control can make you feel overwhelmed, and the overwhelmed feeling can keep you from doing the neat little projects that you read about and want to do with your kids.
So having the house under better control helps so much in my being willing to tackle a project. But also, I have to remember that with three young kids, most of these projects only actually last a few minutes. They're just not able to sit for hours creating crafty masterpieces. But, I'm also amazed at how much they remember from year to year. My 6 and 7 year olds sometimes surprise me by talking about "traditions" we have that I remember as flops.
So here are three ultra fast projects that we did yesterday. Yes, all of them were yesterday, and each only took a few minutes.
First, we made gifts for family members. I received a rice bag when my second was born. We all love it. You just pop it in the microwave for about 45 seconds at a time, and the rice heats up and holds its heat pretty well. It's safer than a heating pad, and feels so good since it conforms to your achy spot. I had thought that we might make these for family members this year, even though that would mean unearthing the sewing machine that's stored in the garage. I mentioned my idea at a mom's group meeting, and someone there had done this before but used knee socks to put them in, and deer corn instead of rice. The ones with deer corn can be put in the freezer, and then can also be a cold pack. Enough deer corn to fill eight socks is a lot cheaper. About 5.49 for a 40 lb bag (found in the hunting section at Walmart). And the knee socks mean almost no sewing, plus they wrap around the back of your neck perfectly.
I cut the top off of an empty 2 liter bottle and used it as a funnel to fill the ultra cute knee-high socks I bought. Then I just tied off the tops. We're also going to sew up the tops, and the boys are very excited about that.
The 2nd project was one that I read about on a blog that I can't find now. Grrr. If anyone knows where the instructions were, let me know. Anyway, I bought plastic ball ornaments and strung them on a wire hanger. The kids loved putting the balls on the hanger, and I must say that this is a VERY gorgeous wreath. Hubby was quite impressed.
Here's the link to instructions at Eddie Ross.

Last but not least was something that I have wanted to do for a long time. I heard an idea at a moms' group about 6 years ago to use an old sheet as a tablecloth for Thanksgiving dinner. Pass out sharpie markers and have everyone write something they're thankful for and their name and the year. Then you can use the same tablecloth each year and add to it. I've never felt like I could do this because I usually don't have Thanksgiving at our house. But I happened to see a white sheet that I had put in the garage sale pile. And then I remembered this idea and realized that for the past two years, we have just gone somewhere else on Thanksgiving day, so we're home the night before. I decided that this would be our Thanksgiving Eve dinner tradition. I don't know that we'll have tator tot casserole EVERY Thanksgiving Eve, but we might.
I do have to add that on this one, I was glad we did it on our garage-sale, beat-up-but-perfectly-fine breakfast table rather than on our dining room table. The sharpie markers did bleed through onto the table. Since our table has a tile top, it wiped off, but it probably wouldn't have come off of my dining table. You could probably cover the table with newspaper underneath the tablecloth, but of course that would make this 5 minute project turn into an 8 minute one.
The kids were so excited to get to write on the tablecloth, and I loved seeing what they were thankful for, although I'm pretty sure that my kindergartner decided to be thankful for things he knew he could spell.
I'm also linking up this (rather old) post to Have a Handmade Christmas over at Proverbs 31 Living.
Save