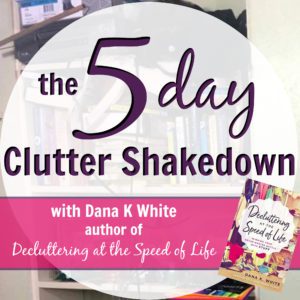 If you are decluttering this week (like most people are), you're in the right place. Decluttering is my specialty.
Not that I actually like it.
I've just had to learn how to declutter by doing it.
There are tons of free resources on this site, free podcasts galore to listen to while you work, and videos you can watch over on YouTube.
And, of course, there are my books to read or listen to: How to Manage Your Home Without Losing Your Mind and Decluttering at the Speed of Life.
But there's also The 5 Day Clutter Shakedown. Which I totally wish I'd named The 5 Step Clutter Shakedown. Because you don't need to set aside 5 days to use the process I teach in it.
This is an online course which includes five instructional videos. I teach you, through explanation and visual demonstration, exactly how to work through your clutter.
If your internet speed or learning style don't work well with video, there are also audio versions of each video and PDF transcripts of each video.
And, for a limited time, I'm opening up a Facebook group for members of the course. (If you're already a member, look for the email I sent with the link to the group.)
NOTE: My video course is still available but the sale coupon codes have expired.
From December 26th through December 31st, The 5 Day Clutter Shakedown will be $20 with the code DECLUTTERMANIA. That's half off its normal price of $40.
For the month of January, the code NEWYEAR19 will take off $15, making the course $25.
Get the course here.
Watch this video to get an idea of the course!
--Nony