This blog post was created in partnership with Tide.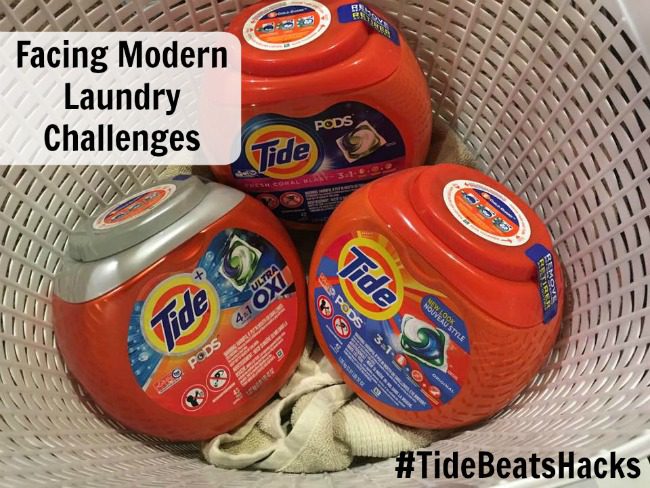 Y'all know that cleaning doesn't come naturally to me. I'm constantly searching for the very best way to clean everything, including clothes. When I heard that adding something I have in my pantry, like vinegar, to bargain detergent makes it clean clothes better, I was ready to try it. While the results were OK , I thought this was the best my family's laundry would get. So when Tide told me that there's an easier way to get even better results I started wondering – had I been doing my laundry wrong for years? Overthinking is often one of my (many) problems. Wanting to do things in the very best way possible is one of the (many) things that leads to this overthinking problem.
When I have an opportunity to deep dive into the WHYs and the HOWs behind things, I generally take it. A few weeks ago, I had the ultimate Cleaning Nerdery deep dive opp when I was invited to the Tide Lab at P&G in Cincinnati, Ohio.
The day spent learning about the science that goes into Tide did not disappoint. We learned how Tide works and about all the components that work together to remove oils and stains and dirt.
But the thing that struck me, as an overthinker, was why Tide works so much better than my hacks. And it has to do with the fact that while those old-school hacks have been around for ages, Tide continues to research and improve their own formulas, which they just upgraded again in January.
Laundry is changing. The challenges of modern laundry are different than the challenges faced in years past. I had a lot of well-duh moments of my own. I've experienced a lot of changes in how I do laundry over the years I've been the main-laundry-doer in my own life.
Changes we discussed that present "modern laundry challenges":
Synthetic fabrics (polyester, for example) are what is now normal. The challenge is that synthetic fibers hold on to dirt more and are dirtier than what our clothes used to be.
Prints are in. I can remember my mother, back in the 80s, not letting me have certain clothes because she refused to own anything that included a color next to white. She claimed there was no way to get these clean and not have the color bleed into the white. Now, we expect laundry detergent to be able to handle both the white and the colors next to it.
People wash laundry in cold water so much more than they used to. It's harder to get clothes clean in cold water, but since people wash that way, detergent needs to be effective in these conditions.
HE washing machines (which are typically much bigger than most older top loader machines) use less water than ever before. If you have purchased a washing machine in the past few years, you know this.
So while humans sweat and stink and spill as much as we ever have, the fabrics we're sweating onto and the machines we're sticking those clothes into aren't the same as the ones our grandmas were dealing with. Note that I learned all these things (that were obvious to me once pointed out) because Tide is facing these challenges head on. Tide Ultra Oxi (available in PODs or liquid formula) is Tide's first detergent combination with both the benefits of stain fighting and pre-treaters together.
But our main reason for heading into the lab was to see the difference between traditional laundry "hacks" with bargain detergent vs. using Tide.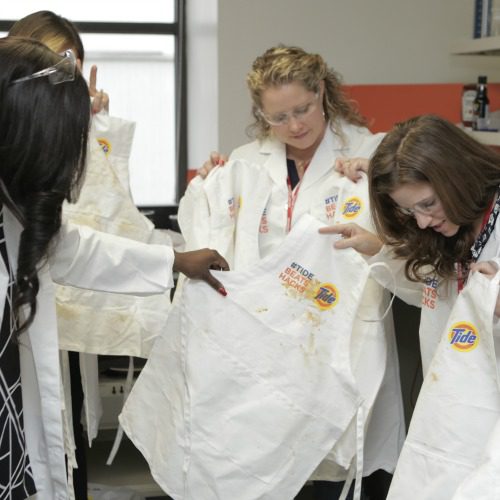 We brought our own dirtied-up aprons. After a family taco night, during which I instructed my kids to purposely get the aprons messy, I had several prime specimens to work on in the lab.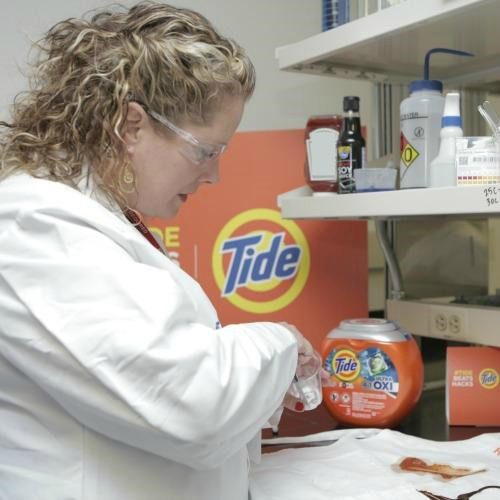 I made a baking soda paste and paired it with a bargain detergent that did well, but didn't get all the stains completely out, while Tide alone did. In fact, Tide Ultra Oxi removes stains better than baking soda and a bargain detergent.
It's hard to see perfectly, but if you look closely in the next photo, you can see that the apron on your right still has stains that did not come out with the baking soda treatment plus bargain detergent, but the one washed in Tide was completely clean.
We also squeezed lemons. Honestly, I didn't even care how lemon juice did, I don't have the hand strength or time to squeeze a bag of lemons. (Interesting note: Tide is designed for use on both colors and white clothing, but lemon juice isn't: in fact, lemon juice has bleaching power and may fade colors if not used correctly.)
And when it comes to smells, Tide removes more of the source of malodor (that nasty smell that sticks to clothes no matter how many times you wash it) vs. soaking clothes in vinegar and washing with a bargain detergent. The new Tide Fresh Coral Blast was a favorite with everyone else there due to its scent, but I was assured that the Tide Free & Gentle PODs unscented pods I love so much also remove odors.
And unfortunately/fortunately, I had the opportunity to try out just using two Tide PODs on some less-than-fresh laundry that I left washing machine for two days during the crazy week before my book launch (when I also happened to be sick . . . ). I used two since I learned in Cincinnati that with the larger loads, two PODs are needed, and I didn't even add vinegar like I usually would have in this situation.
And just for kicks, here's a visual demonstration of how all that odor happens. These containers represent body soil produced by an average adult, daily. DAILY, y'all.
The yellow liquid represents how much an average adult sweats, the oatmeal represents how many skin cells sluff off in a day, the orange oil shows how much body oil an average adult produces, and the salt shows how much salt we each put off in a day. SO GROSS, RIGHT?!?
In my mind, I double the sizes of these containers for teenage boys, and quadruple them for football season.
Yay for Tide removing the sources of all that stink!
My conclusion:
I like knowing how things work, and I love seeing how what seems too easy (throwing Tide PODS into my washing machine) is actually superior to hacks using basic household items (baking soda, lemon, vinegar + bargain detergent) that can take a lot of time and may not work as well as they used to due to changes in how laundry is done now. You no longer need to worry about stain-filled family meals or your kids' sweaty jerseys.
Giveaway!
Leave a comment on this post to be entered to win a  tub of Tide Ultra Oxi PODS! Continental U.S. only. This giveaway ends on March 26, 2018 at 9 p.m. Central time. Winner will be chosen using random.org.  Winner must respond to my email within 48 hours or I'll have to choose another winner. See all my giveaway policies here.
--Nony