This post is sponsored by Aflac. I was compensated for writing it, but all opinions are 100% mine.

Sometimes, this crazy job I have brings the most amazing opportunities. A few weeks ago, one of those opportunities hit my inbox, and I replied with a "YES!!!! I'd love to do that!" so fast that I'm sure the person who sent the email assumed it had bounced back.
I was asked to serve as an Aflac Holiday Helper for a family in my community who had to take time off work due to an accident or a major health event. The ripple effect of the financial burden caused by an unplanned health event can be especially compounded around the holidays. This is the inspiration behind the #AflacHolidayHelpers program.
By partnering with online influencers across the country, and celebrity parents Kevin and Danielle Jonas, Aflac will give a combined $50,000 this holiday season to help families who are going through particularly challenging times due to recent health events. The individuals that Aflac is reaching out to may need help with things like getting into the holiday spirit, decorating their homes, preparing holiday meals or shopping for loved ones – things most families take for granted – because their financial situation has been significantly impacted by out-of-pocket costs associated with their unexpected health event.
#AflacHolidayHelpers are fulfilling holiday wishes like providing families with presents, treating a family to a day of excursions in their city, decorating homes for the holidays and much more.
Did I know someone in that situation whom I could help?
Yes. I did. I totally did.
Maria.
Maria was my oldest son's fourth grade teacher, and our family has known hers for many years. Maria is the kind of teacher you hope your child gets. She's the teacher who turns kids on to learning. My son came home every day that year, telling story after story of what he'd been learning in her class.
But Maria has been on a leave of absence from teaching for most of 2016, because of her commitment to be her husband's fulltime caregiver during his fight with cancer. She has always been one of the most on the go people I've ever known, traveling to speech tournaments almost every weekend with her own high school kids, planning experience-based travel for her family, or volunteering in scouts or church or some other capacity in our community.
When Maria and I sat down to figure out which needs I could help meet with this project, the most difficult part was helping her admit what she really did need. She'd already bought gifts for her kids, so we budgeted out the money in other ways to help them with other out-of-pocket costs during the holidays which are made extra stressful by the difficult circumstances. We arranged for a housecleaner (so she wouldn't have to worry about cleaning before extended family arrives), decided on a tablet as a family gift, and took care of meals so she wouldn't need to worry about meal planning or cooking and could focus on spending time with her family. I even talked her into letting me get her some spa treatments to enjoy with her daughter over the holiday break from school – a much deserved respite for the woman tirelessly taking such good care of her husband and family.
And then I asked, "Is there an appliance you fear will go out soon?" Her eyes lit up and she sighed with relief. "My dishwasher is going to be completely gone any time now."
Maria's husband had fixed her there-when-they-bought-the-house dishwasher many times, but was no longer able to work on it the way he could in the past because of his diagnosis.
You know me, right? So you know how thrilled I was to go dishwasher shopping!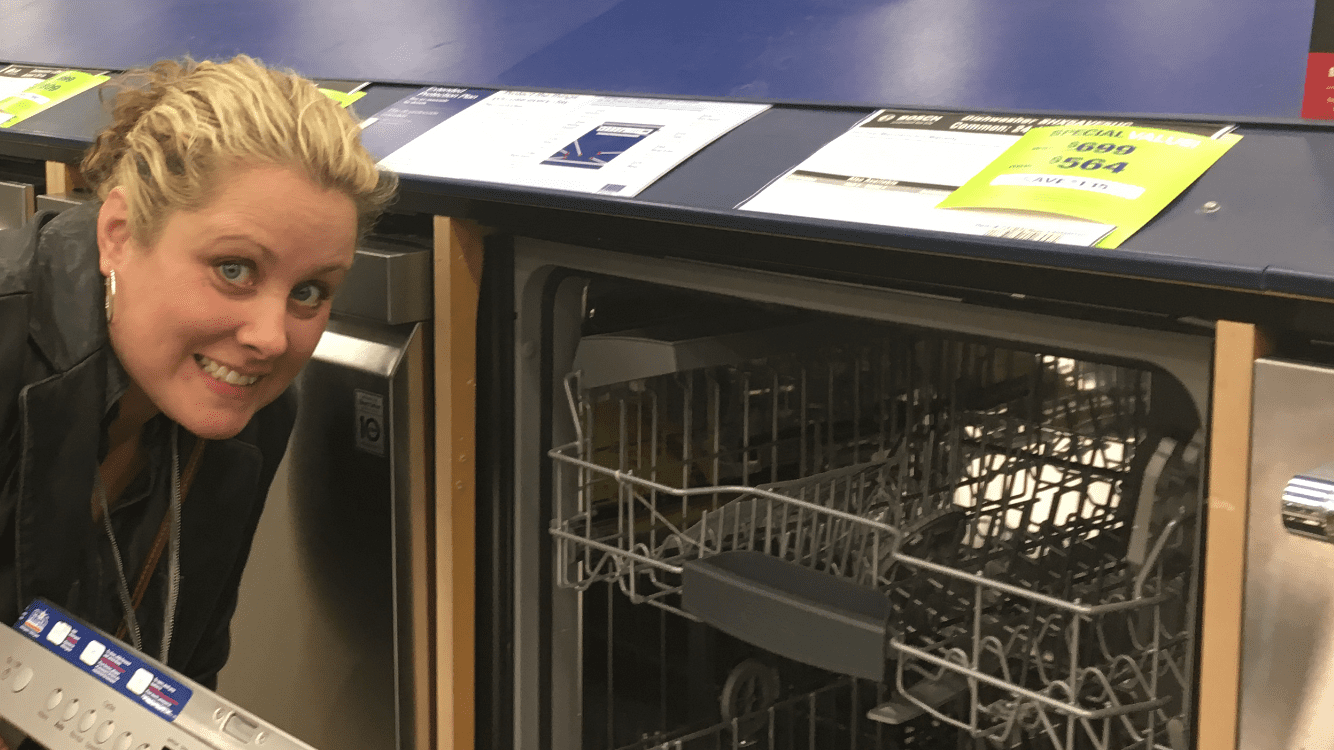 I was so glad to help provide some dishwashing excitement in Maria's life. It might not seem related to cancer, but these everyday expenses are what oftentimes get put on the backburner when a family is dealing with a major health event like cancer and the resulting medical bills. I'm also so thankful to have the opportunity to help ease some of her holiday stress at this difficult time.
I am so sad to say, though, that Maria's husband lost his long battle with cancer just after we started working on this project. I hope that having some financial stress removed can help during this incredibly difficult time as she, her family, and our entire community grieve his loss.
Aflac is there in your time of need – big or small. To learn more about Aflac, visit www.aflac.com/lifestyle. Along with the holiday and winter season comes winter sports and hobbies, like skiing. Aflac recently debuted a new ad, "Ski Patrol," which takes a light-hearted approach to highlighting how life sometimes throws you the unexpected that can ultimately impact you and your family's lifestyle. The commercial reminds us to make sure we're protecting our health and our lifestyle with help from supplemental insurance, like Aflac's.
Aflac herein means American Family Life Assurance Company of Columbus and American Family Life Assurance Company of New York.
Z161385D                                                                                                   12/16
--Nony