Most organizing advice is written by naturally organized people, since they're the ones who, naturally, love to talk about organizing.
The problem for me, though, was that my brain works completely differently from the brain of an organized person. I was lost on page three, and always felt skeptical. Whether it was the truth or not, I believed that the person giving advice couldn't actually imagine my true starting point.
How to Manage Your Home Without Losing Your Mind is written from the perspective of someone who understands what it is like to be completely overwhelmed and not know where to start.
Me.
I've been there. I completely understand, and I've worked my own way out of the mess.
This book is different because I am not naturally organized. It's different because even though a freshly decluttered space makes me smile, I'm completely capable of maneuvering around piles of random stuff for days months at a time.
This book doesn't have checklists or filled-for-you calendars or any of the other things that make a brain like mine shut down the minute my eyes land on them.
But it does tell you exactly what to do, in plain language, when you're completely and totally overwhelmed. It explains why starting is so difficult, and how to break through that paralysis and start anyway.
And then it tells you what to do next, and builds and builds until you get it. Until you no longer feel like your home is a monster you can never tame.
Y'all. If I can do this, you can, too.
But how is it different from my e-books and the blog and my videos and such? Well, if you've read every last thing I've ever written (which so so many of you have) there won't be any new ideas. But there will be new explanations, new ways of teaching.
Here's the thing. I told the publisher that because I promise to only ever share reality-based, real-life, tested-and-proven-in-an-actual-slob's-home strategies, I could not in good conscience come up with brand spankin' new theories on managing your home.
Because "theories" are my main complaint about traditional organizing advice. What should work doesn't always work. 
This book contains no untested theories. Not one hypothesis is included. I've lived out my own deslobification process here on the blog over the past seven years.
This blog is my Slob Lab. I've tested the strategies. I've proven the ones that work (for people like me) and thrown out the ones that don't (for people like me).
There are lots and lots of books out there full of organizing advice that would totally work if someone implemented it perfectly. But part of accepting my Slob Brain Reality is accepting that me implementing that advice perfectly in my home (for more than a totally controlled, nothing-whatsoever-else-to-do 48 hour period) is never going to happen.
This book puts the home management strategies that do work together, in an instructional handbook, written to help you implement what does work in your home, hopefully saving you years of trial and error and frustration. 
The only thing that's copy/pasted into the book is 28 Days to Hope for Your Home, which is now ONLY available within the book. It's the appendix and starts on page 199.
Here's the table of contents. Each chapter starts with a Fantasy (how I totally assume things should work) and its Reality (how things actually work).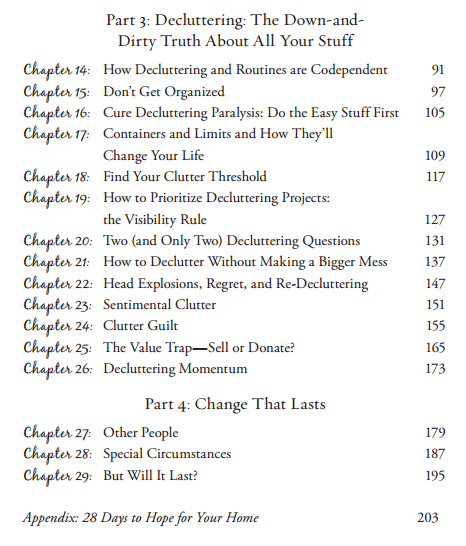 I had so much fun writing this book (other than pulling out my hair, losing sleep, and all), and I'm so excited to share it with you.
In short, if you're the kind of person who wants to scream, "Just tell me what to do to get my house under control!!" but then totally bristles when someone starts bossing you around, this is the perfect book for you.