Have you heard that story about the woman whose daughter asked why she chopped off the end of the roast before cooking it? The woman responded that she didn't actually know why, but did it because that was what her mother had always done. The daughter then asked her grandmother the reason for this "technique." Her grandmother's response? "Oh. I had to chop off the end to make it fit in my roasting pan."
My mom kept restaurant coupons in a drawer by the telephone. If we headed out to eat at Arby's, we always looked in that drawer for coupons and then each ordered separately to get around the "one coupon per transaction" rule.
Occasionally, I get restaurant coupons in the mail. In a small town, that's exciting.
For years, I stuck them in a certain kitchen drawer that seemed the equivalent of the one my mom stuck her restaurant coupons in.
For years, I never, ever, ever remembered to grab one of those coupons when I left to go to the restaurant they matched.
Ever. After cleaning out the drawer time and time again, and experiencing the sadness that overwhelms my Cheapskate Heart when I read the long-past expiration date on a coupon for something I know I've paid full price to buy, I gave up on using that drawer.
Just because my mama had a coupon drawer doesn't mean I should.
Or can.
In my reality, a coupon drawer turns out to be a coupon grave.
Now, I put those coupons in the car. I'm still not terribly likely to remember their existence, but if I do there's a much better chance that I'll use them.
Unless they're in the car I'm not in at that moment. Whatever. A 50% chance that they'll be there when I need them is better than a 100% chance that I'll never ever use them.
Right?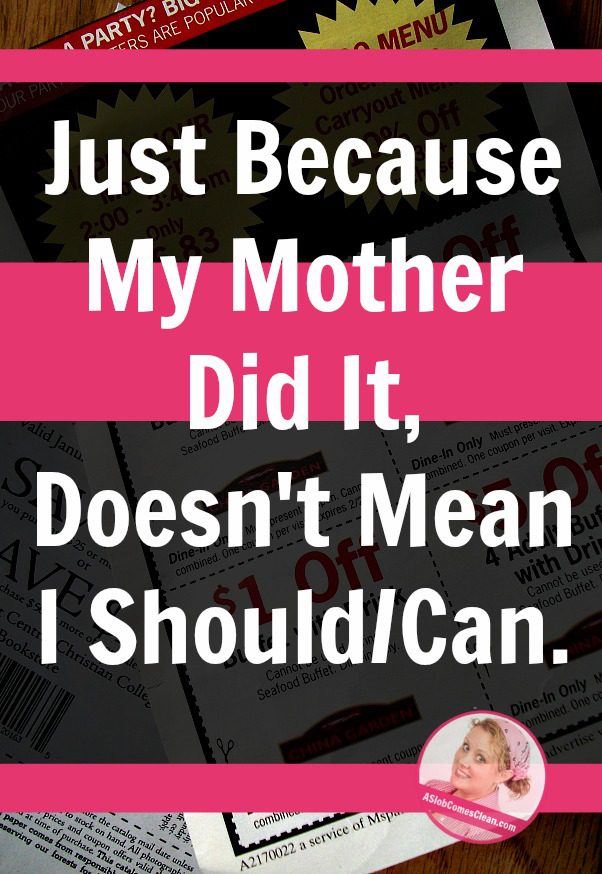 Save
Save
--Nony