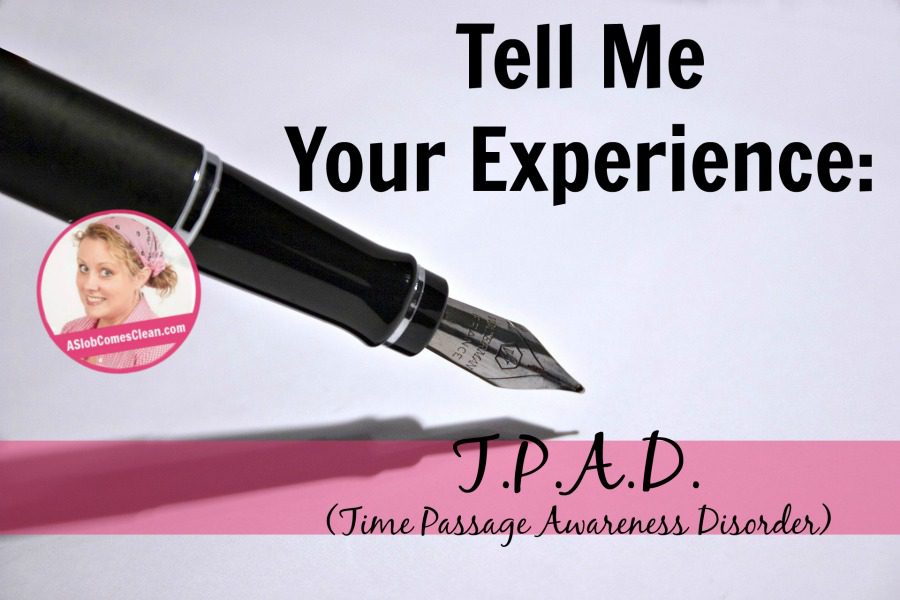 The posts for sharing your "Slob Club Experiences" have been coming out two per day. If you are receiving these via email, you may have missed the extra posts. The most recent one was Help! Tell Me About Your Experience With Weekly Cleaning Tasks. We don't want you to miss the chance to share your story!

T.P.A.D. ~ Time Passage Awareness Disorder ~ a totally-made-up-by-Dana label for a condition those of us in her "Slob Club" totally understand! Just knowing you have it can change the way you tackle your household tasks. That's what A Slob Comes Clean is all about!
Please share with Dana how knowing you have T.P.A.D. has helped you and what you've done to combat it. She's looking for personal testimony from you, her loyal followers and readers. Fill out the form below (or click here to go straight to it)
Want to enter your name as anonymous? That's fine.  "Nony" understands completely!
If you do not suffer from T.P.A.D. that's terrific! No need to fill out the form, then. If you'd like to read a little about what it's like living with T.P.A.D., the posts below are a good place to start.
The draft for Dana's brand-spankin'-new book is almost finished! If you have other experiences to share with her you think would encourage and inspire her, click here for more questions in this "Share Your Experience" series.