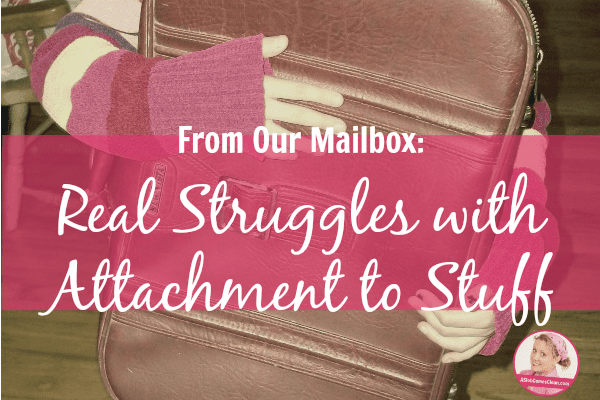 From Nony: This email from Sheila H. made me cry. I'm so impressed with the progress she has made to get past significant attachment issues. She gave me permission to share. I know there are many of you who have also been through things in life that make it difficult to work through various clutter issues. I hope you'll be encouraged by her story.
I did not evolve into a messy person over time. I always was one. I grew up in messy houses, so that certainly didn't help. I also grew up in a very unstable environment. Things were ripped away from me many times as a child. We were constantly starting over. We lived the life of gypsies. I moved all over the country, sometimes with a few days for notice; others involved being picked up from school in the middle of the day and randomly leaving. I think of all the things I never got the chance to cherish. All of the opportunities I could have had if I had the chance. In sixth grade, I was picked up during gymnastics practice at school. Our performance was that evening and I was so excited. Just like that, we were gone. In the ninth grade, I picked up tennis. I was so in love with it. I was picked up after tennis practice and we moved away that night. Tenth grade we moved from Georgia to California. I quickly fit in with the drama kids and picked up a part in Fiddler on the Roof almost immediately. A few weeks after landing the part (very late in the game) we had our performance. We were supposed to have 5 nights of performing. I got to attend 2 before we hopped on a bus for Maine. We were in Maine for just a few months before we left for New Hampshire. If you're keeping track at all, that's four moves in one school year.
What does this have to do with cleaning and maintaining a proper house? Everything. I never got the chance to cherish things. I never got the chance to let go of things when I didn't need them any longer. I lived out of suitcases my entire childhood with only distant memories of the important times in my life. When I became an adult and mother, I clung to stability. I clung to items. I wanted my son to have all of the things I didn't have. I wanted him to have pictures of his childhood. I wanted him to have toys and clothes and everything he could possibly need. His father has OCD. He would come home and clean and I never had to worry about messes. My house was always clean. It wasn't until I began a relationship with my husband and moved in together that I realized what a slob I was. Suddenly, I was the one responsible for cleaning. That was also when I realized I had no idea how to clean. I didn't need just a few hours notice for guests coming over. I needed days, quite honestly, weeks.
Soon after, I found out I was pregnant. I was in the last year of college, I was working full time, my husband was working full time, and my son was in school full time. Life was a juggling act and the house fell into even more disarray. I realized that despite my efforts, my son was growing up in an unstable environment. Not a life that got ripped from him every few months, but one that you had to walk around piles of stuff in order to get to something just a few feet away from you.
The low point for me was when I had to close a window right as I was walking out the door. The window was right next to me. Easy enough, right? Of course it wasn't. I had to walk around my entire living room perimeter to close that window. My feet were catching on things, I had to dodge piles, and it just wasn't a pretty sight. I began to think about what would happen if there was an emergency such as a fire in the middle of the night. We would have lots of problems trying to safely make it out of that house.
What would happen when the baby was born and we had to wake up for 2 am feedings? I was terrified that I may trip over something while I was holding him and fall right to the ground. What would happen when the baby began to crawl? Everything in my house was a choking hazard for that baby. What a wakeup call those thoughts caused.
I began seeking help from books. I was determined to turn my family's life around. I came across Nony's e-books on my kindle and then it clicked for me. It took several months to realize what I needed to do. It took several trips to the store and at least a hundred dollars in cleaning supplies. After all, I was a brand new to cleaning. I was tired of just enough cleaning to make it livable. I wanted to live. I wanted my kids to thrive.
One room at a time I began to clean. I began to reflect on my life and what happened. I was making up for my childhood by clinging on to every item I had for dear life. I didn't want anything taken away from me. It took a lot of self-convincing that I wasn't my mother. I didn't live a life where everything was constantly taken away from me. I didn't have to worry about those things anymore. Once those ideas clicked in my head, it was much easier to get rid of things. 
Slowly, my house began to change. My son could play in the middle of the office with his toys instead of being confined to his room. He could dance around the living room any time he wanted. He was happy and so was I. My baby came in May of 2015. His toys are large and take up a lot of space. But that's ok because now we have the room. He can roll freely all over the floor and I don't have to worry about him sticking something horrifying in his mouth.
I don't claim that my life is perfect. I don't claim that my house is perfect. It's a continuing process for me. I will always be messy. I will always go back to my original instincts and cling to everything for dear life. I just have to keep reminding myself over and over that I am strong. My kids deserve more. I have clean dishes. I can see the floors in all of my rooms. I am happy.
Thank you, Nony. You not only saved my house, but in a way you saved my life.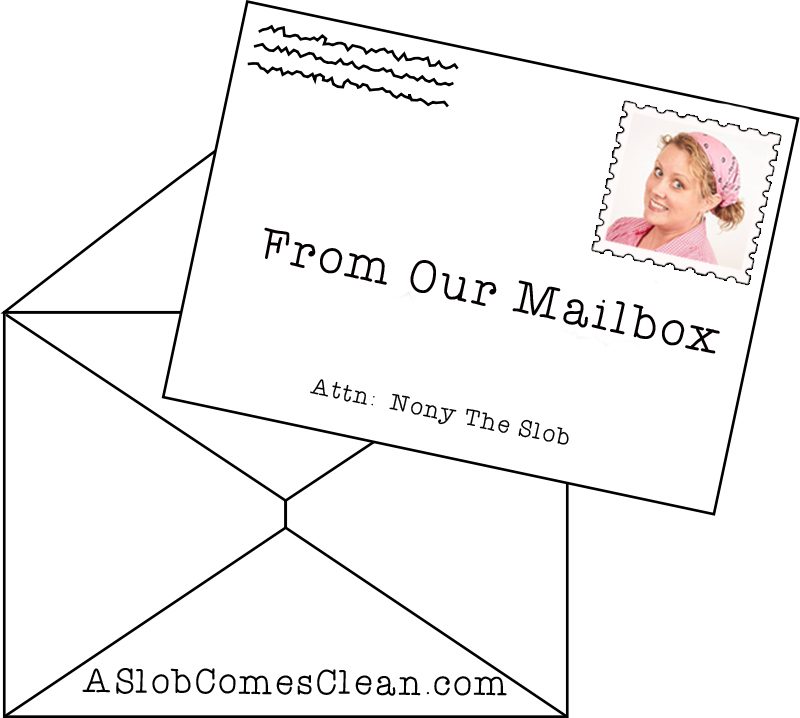 Save