Skirt hangers.
In my mother's mind, they're God's gift to skirt-wearers.
I know this because she has been giving them to me.
Over and over.
Year after year.
Always with a hopeful look upon her face. Hopeful that this item which is the Ultimate Skirt Hanging Solution in her own closet will change my life the way it has changed hers.
There's hope in her eyes, but little memory. She seems to have forgotten all the other times she blessed me with other skirt hangers.
And all the times she neatly placed my many skirts upon them.
And all the times they were left empty, as skirts lay on the floor.
I'm going to be honest. I don't get skirt hangers.
"Get" as in understand.
I know the textbook definition, but they truly boggle my mind. Yes, they allow more skirts to hang neatly in a narrower amount of space. Kind of the definition of an organizing solution, right?
But they don't work for me.
I hang them neatly one time. The one time when I get the hanger. The one time when I'm feeling the hope that something is finally going to WORK.
Then, in the moments of dressing, when organizing isn't my sole focus (or my focus at all), I yank a skirt off the hanger. And in the moments of hanging up clothing, when organizing isn't my sole focus (or my focus at all), I hang up a skirt. My first choice is always the single skirt or pants hanger that came from the store. Right next to the handy-dandy hang-em-all-together Skirt Hanger.
If my first choice isn't available and I have to use the multi-skirt-hanger, Super Busy and Efficient Me deems it best to hang the skirt from just one side of the skirt hanger.
So much faster than going through the hassle of using BOTH clamps.
But even though that who-cares-if-it's-whompy-jawed decision always feels right in the moment, it never ends well.
So, as my Slob Vision cleared during a recent trip to my closet , I grabbed my camera to take a reality-based picture of just how skirt hangers work in my home.
Then, I removed the hangers and one of the two remaining dangling skirts, and stuck them all in the Donate Box.
Skirt hangers ARE a great organizing solution. But only for someone who will use them. For me, it's not about fitting in more stuff.
Any organizing solution that is meant to help me keep more is pretty much guaranteed to fail in my home.
What does work?
Keeping less. And storing it in the easiest, most hassle-free way possible.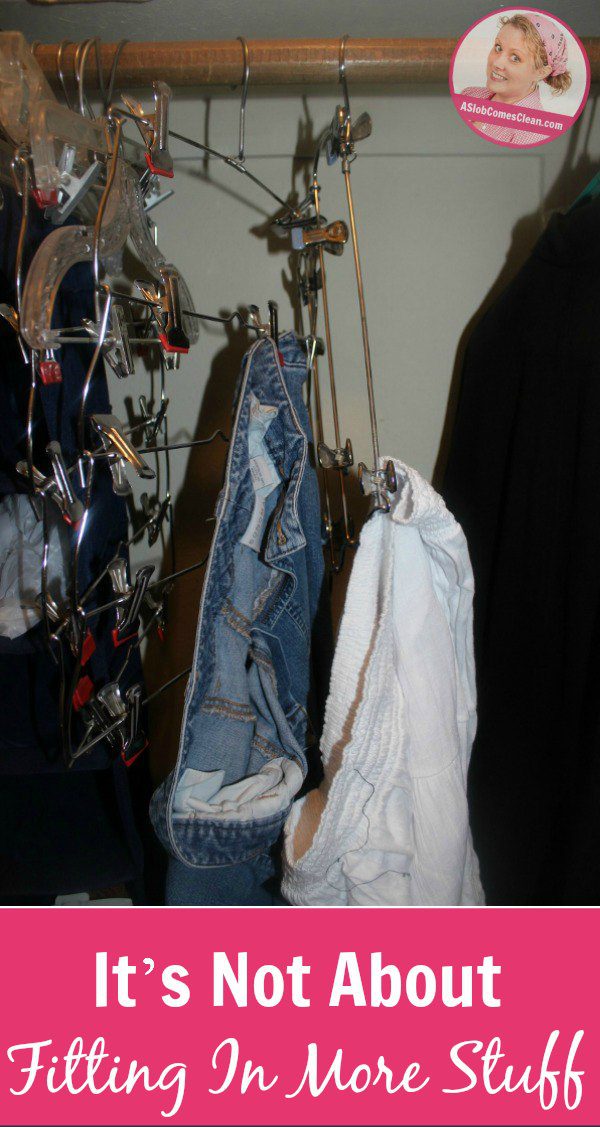 Podcast (aslobcomesclean-comfeeddailyaudioblog): Play in new window | Download
Subscribe: RSS
Save
--Nony