I'm not a big fan of déjà vu.
It's a creepy feeling.
Feeling like something happened before but knowing it probably didn't.
And then there are times when things happen that I KNOW have happened before. That's not a creepy feeling. It's a mind-exploding, grumpiness-inducing, self-blaming feeling.
Like these black pants.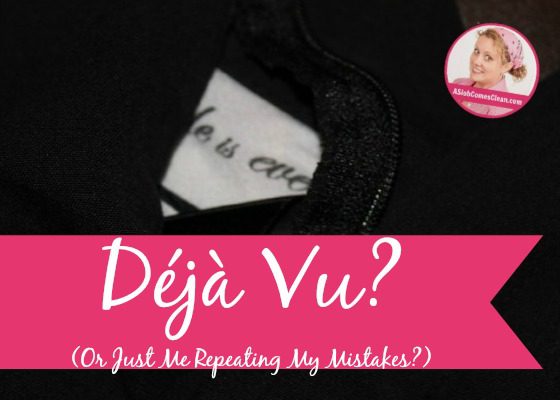 I uncovered them recently in a pile in the master bedroom. I thought, "Huh. I wonder why I still have those? I distinctly remember ripping them."
So I looked where I thought they were ripped, in the back.
They were. One seam of a double seam had come undone. But really, as long as there wasn't a HOLE, they were technically wearable, right?
At least wearable-in-a-pinch?
I smiled a self-depracating smile at my strange memory of thinking them unwearable.
Silly me.
Well now I'm GLAD I waited to pitch them.
Waiting is usually bad, but this time it was good.
Lalalalala.
Then, when it was time to actually wear black pants, I thought how lucky I was to have uncovered those. I always did like the way they fit!
Until I put them on and realized it wasn't the half-a-double-seam-rip that I remembered making them unwearable. It was the ENTIRE-ZIPPER-OUT rip.
Ugh.
And I felt this strange sensation that I had experienced this exact yay-for-me-wait-what-was-I-thinking scene before.
I've broken the cycle. Those pants are gone.
_____________________________________________________
It's Christmas shopping season, and Amazon is already putting out some amazing deals at Amazon's GoldBox Deal of the Day
. I'm hesitant to post exactly what they are here on the blog since they're so time-sensitive, but it's worth clicking over (via my affiliate link) to see what today's deal is.
--Nony