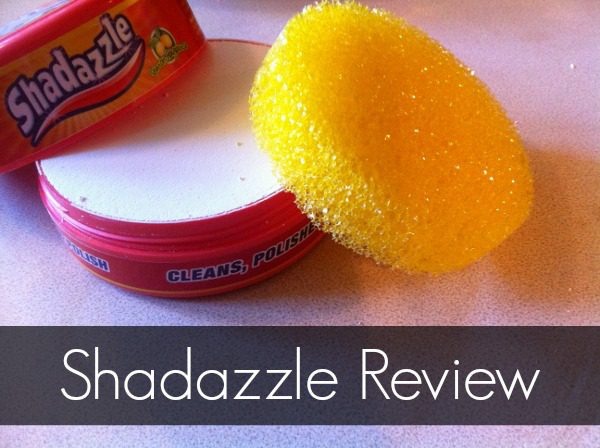 Sometimes a girl (even one who likes natural cleaners) needs more than a little vinegar.
I was recently sent some Shadazzle to review. (A paid review, for the record.)
Yes. I said Shadazzle.  Actually, I'll say it again since it's rather fun to say, don't you think?
Shadazzle is a clay-based multi-purpose cleaner and polisher.
I had absolutely no idea what in the world that meant when they asked to send it to me.  I was envisioning rubbing a rock on my bathroom tiles? 
But no, it's a cute little orange package that has a sponge included. You wet the sponge and then rub it on the clay and it gets nice and soapy.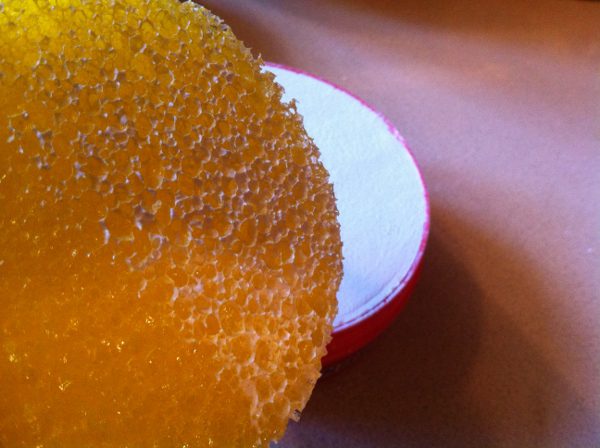 I tried Shadazzle on several different surfaces in my house.  Thankfully, they sent two containers so I could label them kitchen and bathroom to keep them separate.
My overall thoughts on Shadazzle:
The All-Positive
I like the scent. The light lemony fragrance is one I can handle, even as someone who generally stays far away from heavily-scented cleaning products.
I like the concept.  Everything I needed to scrub my kitchen sink was in one little package. Cleaner and sponge.  No pouring or mixing or shaking. Or powders flying up into my face.
I would feel comfortable letting my kids use Shadazzle to clean the bathroom sink thoroughly.
The Not-Really-Negative-but-Not-Totally-Positive
The website says Shadazzle doesn't scratch, but I was still a little scared. When I scrubbed my stainless steel sink, the scent changed from lemon-ey to the distinct smell of steel wool. (Yes, according to my husband, I have a bionic nose.) There was some major friction.  I'm not sure that it scratched my already scratched-up sink, but I don't know that I'd use it on my stainless steel appliances, simply out of paranoia.
It's a good cleaner, but not a heavy-duty-why-can't-one-little-scrubbing-sesson-make-up-for-months-of-quick-swipes cleaner like I somehow thought it would be.
I used the Shadazzle to clean my guest bathroom's sink, and it did a good job, but didn't cut through the . . . ummm . . . extra challenges on the sink's drain.  It made it better, and did a good job overall on the sink.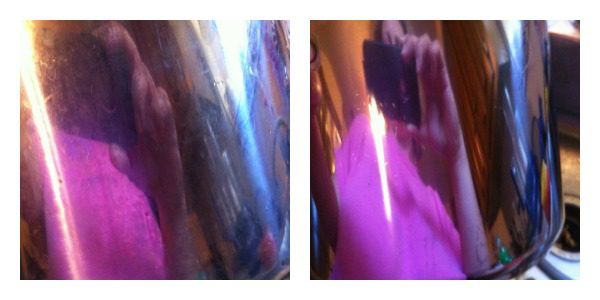 It did work fabulously, though, to shine up my stainless steel pot that was looking a little/lot cloudy after going through the dishwasher many times.  My favorite benefit of running the dishwasher EVERY SINGLE night is that I can usually fit my pots and pans in there. I know many people don't like to put stainless steel pots in there (and it's very possible that the directions for the pot said not to), but I do. The inside always looks perfectly shiny, but I need to put more drying agent in, so they've been getting cloudy on the outside lately.
One quick soaping up and rinsing (almost no scrubbing) with the Shadazzle and it looked beautifully shiny again.
I'll definitely be pulling out the lemon-ey scented Shadazzle again for various cleaning jobs around the house.
Disclosure: I was provided with two containers of Shadazzle and was compensated for the time it took to write this review.  The opinions, experiences, photos and hasn't-been-cleaned-as-recently-as-it-should-have sink drain are all mine.
--Nony