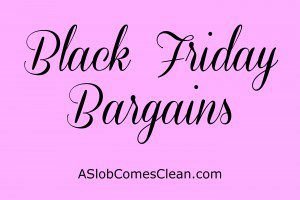 I'm sorry.  These deals have now expired.
I'm participating in a round-up of Black Friday deals with a bunch of other bloggers.  We are each sharing deals for specific stores, with links to all the great deals that will start the day after Thanksgiving!
Bed Bath and Beyond is one of my favorite stores.  They'll open at 6 a.m. and all customers who arrive between 6 a.m. and noon will receive a coupon for 20% off of their entire purchase! You have to get the coupon before noon, but you can use it all day Friday!
The coupon is good on everything . . . except Dysons.
But don't worry, Dyson products are the main thing they're deeply discounting for their big sale.  And I know many of you have one on your list! Their Dyson sale goes Nov. 23-26.  That's Friday through Monday.
Here are some of the prices on Dyson products:
Uprights:
DC24 Ball Multi Floor Upright – 299.99 (reg. 399.99)
DC24 Ball Animal Upright – 337.49 (reg. 449.99)
DC33 Multi Floor Upright – 299.99 (reg. 399.99)
DC40 Ball Multi Floor Upright – 374.99 (reg. 499.99)
DC41 Ball Animal Upright – 449.99 (reg. 599.99)
DC41 Ball Animal Complete Upright – 487.49 (reg. 649.99)
Canisters:
DC26 City Canister – 299.99 (reg. 399.99)
DC39 Ball Multi Floor Canister – 337.49 (reg. 449.99)
DC39 Ball Animal Canister – 374.99 (499.99)
Cordless:
DC34 Cordless Handheld – 149.99 (reg 199.99)
DC35 Multi Floor Digital Slim Cordless – 247.49 ( reg. 329.99)
DC44 Animal Digital Slim Cordless – 299.99 (reg. 399.99)
Bladeless Heater and Fan:
AMO4 Hot+Cool – 299.99 (reg. 399.99)
Check your local ad before heading out BEFORE the crack of dawn to be sure the same times and prices apply!  And the ad is very clear that no other discounts can be combined with the Dyson deal.
Also be sure to check Amazon's current prices on the Dyson Products
you want!
Now go see what great deals there are at other stores on Black Friday!
At Girl Loves a Bargain see the Costco deals which include LOTS of electronics from TVs to Digital Cameras!
Consumer Queen has the deals at CVS.
Go to Luv a Bargain for the deals at Target.
OCDeal Mama has the best at Walgreens. (Which actually start Thursday!)
Consumer Queen also has the Office Depot deals.
3 Boys and a Dog has the deals for Michael's.
I Love to Gossip has the Sears deals.
NorCalCouponGal has the Ace Hardward ad.
She also has a preview of the Macy's ad and the Rite-Aid ad.
Frugal Fil Am has the deals at Cabela's.
Enchanted Savings has what's on sale at JoAnn's Fabric.
Crystal and Co has the deals at Walmart. 
And be sure to pin/bookmark this post because I'll be sharing more links!