Thanks to Discount Cleaning Products for sponsoring June's posts in this series!
Summer flies by.
I'm in shock/awe/horror that two weeks are already gone.
So how did our second week of the Summer of Clean go? (Did you get your copy of my new e-book, Teaching Kids to Clean?)
As recently as last night, I honestly thought I was going to have to give us a D.  Maybe a D+.
We did laundry, but never finished it completely. We cleaned bathrooms, but quit before they were completed in order to get to the summer library program on Tuesday morning.
Wednesday was spent working in the kids' rooms so I'd be willing to let them have friends over.
I've done the dishes every day, but my rhythm is off so doing them doesn't necessarily translate into a clean kitchen.
Are you wondering yet how I upgraded our week's score to a B-?
Today, despite feeling behind and discouraged and irritated that another week was going to pass me by without ever getting to the dusting and vacuuming . . . I took a deep breath.
And focused on my daily checklist. I involved the kids in a 5 minute pick-up and swept the kitchen and did the other small tasks that always surprise me by adding up to a significantly-more-livable house.
And that . . . just that, helped so much that I'm now willing to give us a higher grade!
Now, it's your turn!  How did you do this week? If you write a post about your experiences using my e-book, or if you'd like to submit a guest post about it, let me know!
I love this post over at Mel's Funny Farm about her first week of the Summer of Clean, especially how she adjusted the height of her Swiffer so it was easy for her child to use!
Have you checked out the cleaning starter kit over at Discount Cleaning Products? (Heather Lei, you won the kit from the giveaway last week, but I need to hear from you by tomorrow morning or I'll have to choose another winner!)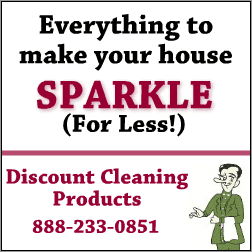 If the thought of starting a daily checklist overwhelms you, my e-book, 28 Days to Hope for Your Home is on sale through the end of June for only 3$!!  And . . . since it's now on Amazon for Kindle, you can actually use Swagbucks . . . to earn Amazon giftcards . . .  to purchase it! [NOTE: The e-books are now retired – For detailed guides, check out my books: How to Manage Your Home Without Losing Your Mind andDecluttering at the Speed of Life.]  AND . . . (says the girl who loves finding ways to get things for free) Swagbucks has a sign-up code that's good through the end of June.  If you sign up for a new account, enter the code JUNETASTIC during the sign-up process and you'll earn an extra 70 Swagbucks! That will start you off with 100 swagbucks!  Go here to sign up through my referral link.  If you're totally confused right now, read my Swagbucks explanation post.
This post contains affiliate and referral links!