Last Friday night, as hubby was lovingly frying fish for dinner, he asked for tongs.
Right at the moment when he needed them.
I decided to not be irritated since I would do the exact same thing.  Of course, it so happened that I had used the tongs to cook supper the night before and then left immediately for a rehearsal.
Which meant I didn't clean the kitchen, and they were sitting inside a once-soaking-but-now-stinking pot, with various other not-so-clean dishes piled on them.
In the pulling out process, less-than-lovely water splashed . . . and landed in my utensil drawer.
My open utensil drawer.
Since I had to remove everything anyway, I decided it was as good a time as any to declutter that drawer.
Here's the shot of the drawer at the moment when I realized I needed a before picture:
Here's everything that came out of it: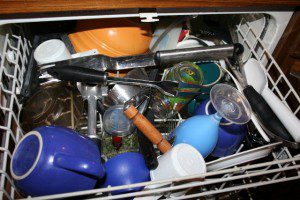 I removed EVERYthing, tossed the liner in the washing machine, wiped out the drawer, and threw away the trash.
Yes.  I said trash.
Bottlecaps, construction paper, and pickle-jar lids.
Putting things back gave me the opportunity to evaluate which items I could live without.
I decided I only needed two spatulas.
Since I had no idea what that (scary-looking) thing was, I let it go.
The cheese-slicer  (that I didn't know I had) went into the knife drawer.  I also refer to it as my Anything That Cuts drawer.  That's where I would look for it.
When all was said and done, I didn't get rid of tons:
But the drawer is much more usable (and cleaner) now:
Sometimes, you just have to celebrate the I-had-to-do-it-anyway projects.
I'll be linking this up to OrgJunkie's 52 Weeks of Organizing.
Save