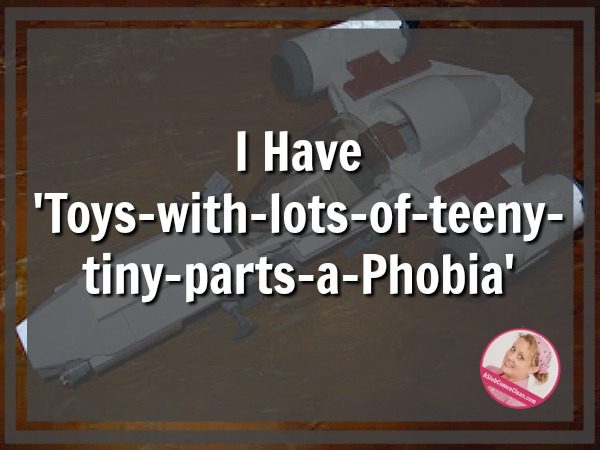 "They" say that the first step is admitting you have a problem.
I have a problem.
Actually, I have lots of them, but I'll focus on one for today.
I have a fear of toys-with-lots-of-teeny-tiny-parts.
Like Legos.
This is a prime example of my slob-tendencies affecting my real job . . . being a mom.
I've successfully avoided Legos for years. My oldest son has a bit of the same fear, so it hasn't been an issue with him. But my second son, the one who just turned 7, loves to build things. And has a math-brain. Y'know, just the type of kid Legos were created for.
The main problem is that Legos aren't really toys. They're boxes full of pieces.
With instruction BOOKS instead of instruction sheets.
Here's the problem. Doing a real lego project requires a totally-cleared-off table. And it requires a block of time. In our house, if you put a few pieces together, and then take a break . . . things will get piled on that table, and pieces will get knocked off, kicked under the piano and lost forever . . . and you'll never actually get to play with that greed-inducing toy on the front of the box.
But, alas, my son received a really cool Lego Star Wars
Thing-ey at his party. From his best friend. His best friend whose mom is not a slob and whose parents love Legos and help him put big elaborate projects together.
So, last Saturday, a full two days before he was technically old enough to do it, we put together his Star Wars Spaceship. Thankfully, we had a cleared dining room table to do it on.
And you know what? It was fun.
Once I read the instructions (I know, who does that?), I saw that they have some really good advice. They advise that you sort the pieces into piles by color so you can find the ones you need easily. Then they tell you, step by teeny-tiny-step, exactly what to do.
I don't personally know who invented Legos, but I can say with total certainty that Mr./Ms. Lego was/is NOT a slob.
And just to sound more science-ey/math-ey and try to fit in with Lego-lovers, here's my little equation for the day.
Cleared Table = Less Mommy Guilt.
Save
Save