I can do maniacal cleaning.
When my husband and I were first married,
pre
-kids, he'd go out of town and I would clean like crazy. Dust-mask, rubber gloves, multiple trash bags, and the house would be sparkly and clutter-free, or at least clutter-hidden, when he returned.
Living as I used to live (the house always a sty), I had no choice but to clean like a crazy woman in order to be able to open the front door and let someone in. And then I'd enjoy the clean house and think I deserved a break until one day, a week or so later, I would notice that the pigsty was back.
Yes, I'm good at the maniac thing.
But, as I've worked on making real, lasting changes in our home over the past 7 months, I've changed my methods from maniacal to methodical. I've been working at consistency, real
decluttering
, and staying focused on maintaining a space once I've rescued it from disaster status.
It's working. It's working better than any other way I've tried.
So, as I'm trying to gear myself up to finally conquer the master bedroom, I want to apply what I've learned in the rest of the house.
Last fall, when my husband took the boys camping for the weekend, I
tried the crazy woman thing on the master bedroom
. It was so far gone at that point that even approximately 20 hours over that weekend didn't get it to perfection. And the result?
It's now back in its full-fledged horror-movie state.
I had intended to work on it this week, but then the week got away from me. I found myself with 40 minutes yesterday and decided that I might as well do something. So I took some before pictures which I'm too ashamed to post, and decided to clear the dresser.
40 minutes wasn't enough, but I came back when I had a few minutes later in the afternoon, and finished up.
Here's the after:
Yes, that's one of my wigs.
I took my time. I focused only on the dresser and took every piece of . . . ahem . . . junk to its proper home. I got out my pledge and shined it up and arranged the photos and cleaned the mirror.
Our master bedroom is so bad, that I know in order to "do it right" I'd have to devote an uninterrupted week to it. In the past, on my maniacal cleaning days, I'd pick up all the dirty clothes in the entire room. Then pick up all the trash. At that point, I'd become overwhelmed. And I'd always, always get to the point when I wouldn't know what to do with those last few things that didn't have a home anywhere else in the house. And then I'd usually quit.
So, since I'm committed to truly changing my slobbish ways instead of just getting the house ready for one party, I'm going to take my time. I mean, no one has seen the master bedroom in 3 years, what's one more month, right? I'm going to work on a small section at a time, celebrating each section as its own success, and work to maintain the finished ones.
And that cleared-off, shiny dresser gives me hope.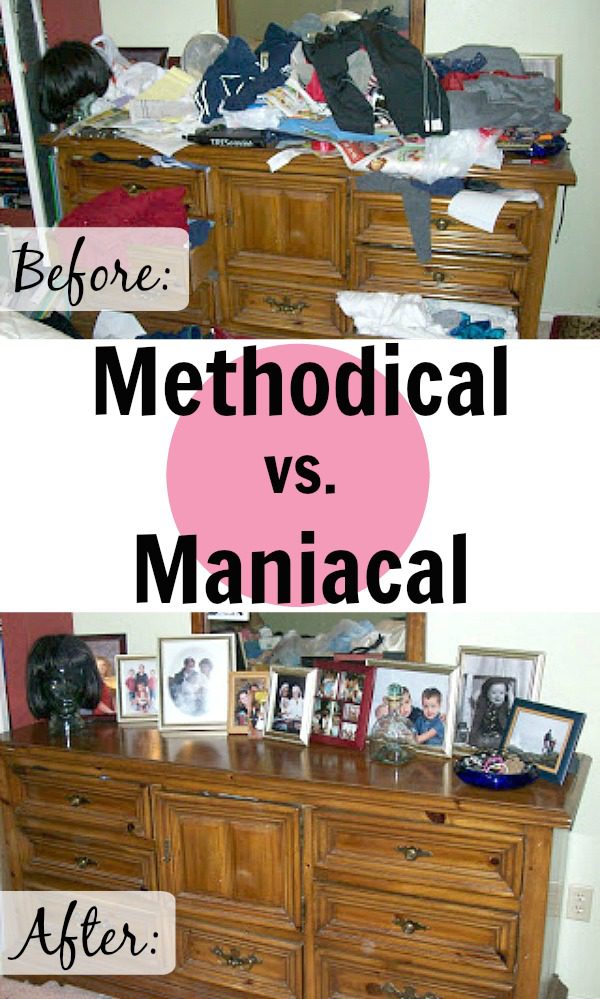 Save