I'm writing this for Works for Me Wednesday. I was thinking about this last week when I wrote about something else. I asked myself what about this "coming clean" process really works for me?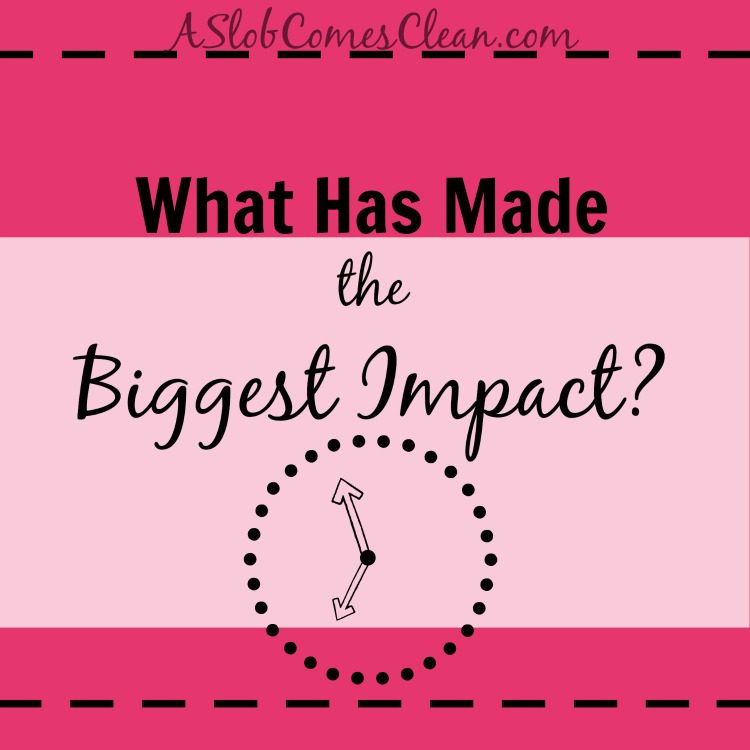 I would generally say that the process itself does. But the one thing that makes the biggest impact would have to be getting up earlier than the rest of my family (except hubby, because that would be crazy!)
My boys' alarm clock is set for 6:45. We have to leave the house at 7:20 in order for me to be able to get the boys to their seperate campuses on different ends of town by 7:45. I have been getting up at 6:15. This gives me time to make the bed (so much quicker when I do it everyday than it was when I did it once a year) and get dressed, empty the dishwasher, and get started on breakfast.
The kitchen was the first thing I conquered in this process. It may not be pristine by Martha Stewart's standards, but it no longer has piles of dirty dishes covering the counters. I no longer have to declutter to be able to make a peanut butter sandwich. And, get this, it's easy. Getting up early and emptying the dishwasher before the day starts makes it easy.
It's so obvious to me now, but it didn't make any sense to me before. I know that Flylady says to get up early, but I . . . just didn't want to.
Pre-kids, I would sleep as late as I possibly could. When I had roomates who taught at the same school I did, they were so worried that I was going to oversleep for the first week we lived together. Then they realized that I was perfectly fine getting up 15 minutes before I needed to leave. I washed my hair the night before and then would take another quick non-hair-washing shower in the morning (I'm a germaphobe, remember), throw on clothes, minimal makeup and go. I didn't eat breakfast.
After my husband and I got married, he couldn't handle me not eating breakfast, and would fix me something. So, I would get up about 20 minutes before we had to leave.
Then came the young'uns. I've been blessed to be home since my oldest was born, so I thought I never needed to get up until the kids woke up, which was usually around 6:30 or 7:00 anyway.
Once my oldest started school two years ago, I would also get up when he did, so every morning was rushed. And the day would start out behind. And I stayed behind.
So, yes, waking up early has been the most significant thing in this change I've been making. It basically means that my kitchen never gets out of control. If the dishwasher is always emptied first thing in the morning, the dirty dishes can go straight into it all day. Therefore they never pile up.
So simple. Soooo beyond me until I actually experienced it.
Check out the other posts at Works for Me Wednesday.