I worked on my daughter's room this morning. It was scary. Scary to anyone who might happen to pass by, but especially scary to a mom who struggles with chaos and clutter and desperately doesn't want to pass this on to her children.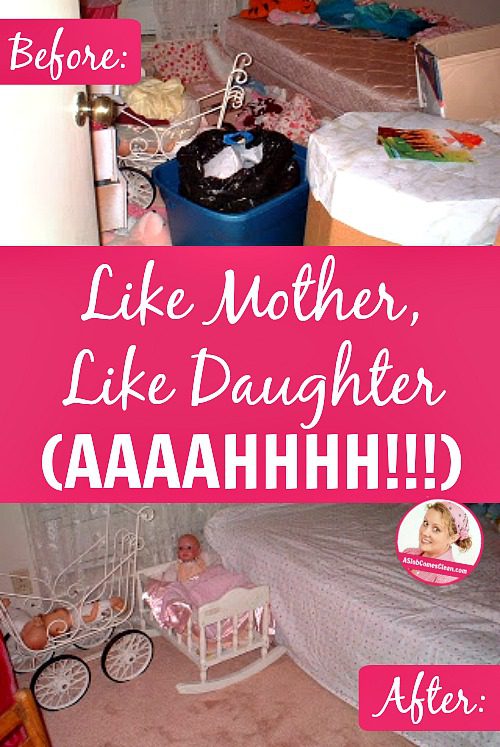 My daughter is three. She is at an age when she should be able to start picking up her room on her own, with some assistance. However, I do not consider this mess to be her fault at all because she has not been taught. In fact, she has been taught by example that it's perfectly fine to leave messes for later, and to let them multiply until they take over the entire room.
For over a week, her room has been really bad. Really bad. She learned a few weeks ago how to climb up on the storage boxes I had in her closet and take down all of her hung-up dresses. She loves dresses and will change clothes 10 times a day on some days. She also completely emptied her toy box so that she could crawl inside and convince herself that I would never find her in there eating candy. I did find her. She also continually takes all of the sheets off of her bed to "make something" in the living room. She also has been hoarding books since her kindergartner brother has decided to be obsessed with reading every book we own. Add to this the general messiness of a room that never gets consistently picked up, and we have a total disaster.
I did the general throw-away and garage-sale-box clean up. I also, though, admitted that she is now too old for me to use her room for storage. I have stored tubs of off-season clothes, for all of the kids, in her room since we moved into this house when she was 3 months old. However, she dug through them recently (it is her room after all) and was horrified that there were boy clothes in her room. I also had used a dish barrel as a table, covered in a pretty pink toile tablecloth. It was filled with clothing as well. It was pretty, but was just taking up space and serving no legitimate purpose for her.
So I took these things out. Now the only thing on the bottom of her closet is a tub with her dress-up clothes in it. The pink castle tent is now in the area formerly occupied by the dish barrel, so it has an actual spot. My hope (I'm definitely no expert in this) is that having a definite place for the tent and for her dress up clothes will make having her clean her own room a realistic goal. Before they had a real place, it only frustrated her when I told her to pick up her room. A three year old can put things away, but she's not old enough yet to solve the problem of where to put things. That's my job.
Closet view before:
And after:
View from the door before:
And after:

In case you're wondering . . . Yes, that is my 9th grade Gold Lamay Bubble Skirt Homecoming Dress hanging in the closet. It's an heirloom!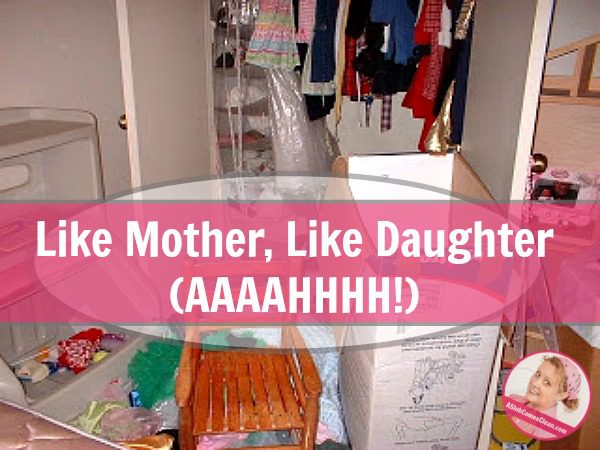 Save
Save