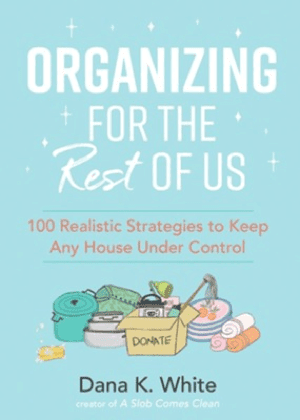 Organizing for the rest of us
"The writing is lively and humorous, the pictures tell a story, and the topic held my interest, but what really made this book a masterpiece is that the strategies work."
-Jane A.
Decluttering at the Speed of Life
"If like me, you have ever looked at all your clutter and felt utter despair; had no idea where to start because it all looks far too daunting…buy this book."
- E.Meredith
How to Manage Your Home without losing your mind
"Really, this is a must read for anyone who wants to learn the secrets that all those organized types seem to know." -Kimberlee S.
Organizing for the rest of us
So you want to keep your kitchen counter clean but you aren't ready to toss the toaster? You want to be able to find your kids' socks but aren't looking to spend your 401(k) on clear bins? You long for a little more peace but minimalism isn't what you want? Decluttering expert and self-proclaimed recovering slob Dana K. White offers sustainable ideas to simplify and manage your home in Organizing for the Rest of Us. In Organizing for the Rest of Us, Dana teaches us how to make great strides with minimal effort in every room of our home. Here she offers 100 home management strategies to help us understand:
Why changing how we think about clutter is the first step to getting rid of it

The basics of organization for people who don't like to organize

How to get a grip on laundry and dishes

Why real-life decluttering requires fewer hours and less emotional bandwidth than we imagined
Decluttering at the Speed of Life
Released in February 2018, Decluttering at the Speed of Life spells out my decluttering strategies in thorough, step-by-step instructions to help you work through your clutter, no matter how overwhelmed you feel.
"Whether you have five minutes, five hours, or five days to spend decluttering, you can make real progress in your home."
Order now and start winning that never-ending battle with STUFF!
How to Manage Your Home without losing your mind
Are you completely overwhelmed in your home? Have you tried again and again (and again) to understand why keeping it under control is so ridiculously hard for you? So you watch your friends and wonder how in the world they're NOT stressed out and confused like you are?
I understand. That's exactly where I was in 2009. I had tried and tried, but no matter how what I did, any progress I made felt like I was holding onto the edge of a cliff, desperately trying to keep from falling back into the mess.
But I always fell.
I mention 2009 because in August of that year, I set out on what I now call my deslobification journey. After ridiculous amounts of trial and error, I have figured out what was always a mystery to me. I have figured out how to manage my home without losing my mind.
If you feel like traditional cleaning and organizing advice is written in a language you never learned, you're exactly the person for whom I wrote this book. I didn't understand, either.
This is the book I desperately needed. In it, I teach you the reality-based decluttering strategies and hard-learned lessons I've learned through my own deslobification process. They're here, in one place, as the guide you need to get control of your home.
Pick it up at your favorite bookstore, or order your copy online. I encourage you to check out the reviews!