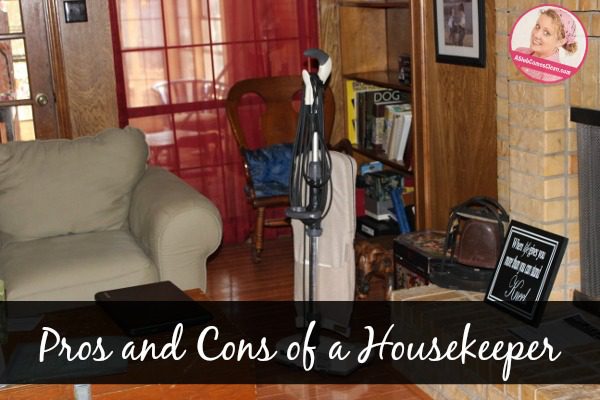 Yesterday, I shared my opinion on hiring house cleaners.
Today, I'm sharing an AWESOME email I got from one of you recently. The minute I got this email, I asked if I could share it as a guest post.
I knew all of these things to be true, but it means so much more coming from someone who is living it. Who speaks from experience.
I'm not sharing the author's name by her request. (I totally understand since I didn't share my own name for two years here.)
__________________________________________________________________________________________________
Hi Nony!
I just found you recently on iTunes and now subscribe to your blog as well. You and I are very similar in our "cleaning" styles. I relate so much to what you talk about and have struggled for MANY years (since my messy bedroom as a child). I could go on, but I'm writing this to tell you about having a housekeeper.
I am married to someone who grew up in an immaculate home and with the belief that keeping things "nice" is a moral issue, not simply a preference. (Maybe that's an exaggeration…) We've always struggled with housework as a couple and it has been a constant strain on our marriage from the beginning. By the time the second baby was born it reached a fever pitch and something had to change. We got a housekeeper…
A weekly housekeeper.
Don't all of us who struggle in this area believe that if we only had a housekeeper all our problems would be solved? I know I did! So that was two years ago and here I am reading your blog. Not to say housekeepers are useless… She still comes once a week and I LOVE her. She has improved the quality of our lives immensely, but I still struggle. I thought it may be helpful for you (and potentially your readers) to see what having a housekeeper can (and cannot) do for you.
1. She CLEANS your house, but she can't clean if your cr*p is covering every surface and floor in your house. Which means every week I run around and yell at my kids for two hours before she comes. It never fails that I put this off until the last minute.
2. The house looks and smells amazing when she leaves. And that lasts for up to twelve hours as long as everyone is asleep for most of that time. Then by the next day, the kitchen is a disaster, the floors are covered in toys and the garbage can smells, again.
3. She does dishes, but not a full weeks dishes. You still need to wash your dishes everyday, and do your laundry and clean off the table and sweep the floor…
4. She costs money: we pay her $70 a week. There are times I think it is ridiculous to pay someone to clean our house.
5. She does not declutter.
BUT….
5. Our house gets completely "company ready" every week.
6. I have the comfort of knowing that pile of dirty clothes has never been there for more than a week.
7. I haven't cleaned a shower or bathtub in over two years AND they both are clean!!
8. When I have to run around because company is coming (which I still do), I'm done much quicker and clearing off the bathroom counter reveals a clean sink and counter rather than a disgusting mess.
9. It has improved my marriage. It is the one day a week we don't argue about the house. (Maybe another exaggeration…)
10. The daily tasks from ASlobComesClean.com still come in handy and help the rest of the week run much more smoothly. Or at least I hope they will if I can actually get through a full week of doing them!
Thanks for all you do for those of us who think like you!
____________________________________________________________________________________
I love this real-life perspective. Do you have a housekeeper? Have you always dreamed that one would solve all your problems??
For the record, I think the "cons" are really just reality-checks.
Several have asked how to find a cleaner. My best advice is to ask people you know. I hired someone to clean for a HUGE party once, and this was what I did. I was VERY surprised to find out that so many of my friends had regular cleaning people. This is the best way to find someone local, with a reference, who is hopefully trustworthy.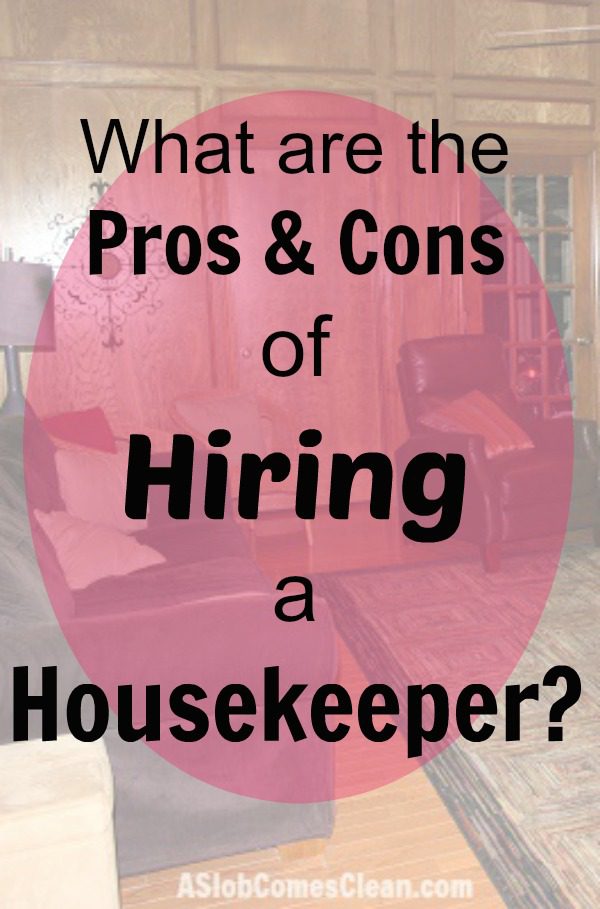 Save
Save
Save
--Nony