Warning: This post contains my affiliate links to a manicure system that is NOT cheap at all.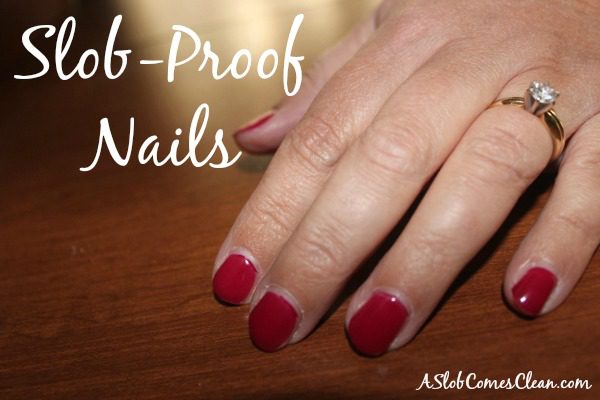 Random fact about me: As a lover of projects (as opposed to mundane day-to-day things with no dramatic finish), if I paint my nails . . . I paint them a dark or bright or dramatic color.
If I'm going to go through all that hassle, I want it to be noticeable.
While I love a good pedicure, I don't paint my fingernails often because a manicure rarely lasts more than a day or two for me. IF (and that's a big if) I can sit still long enough for my nails to actually dry, I generally bang them on something or scratch off something or break one fairly soon, and chipped painted nails look worse than unpainted nails.
But . . . I've made a discovery. When I did that segment on ABC World News, my friend painted my nails with her gel manicure set. That picture you see above? Those are my nails . . . two full weeks later! Seriously. TWO WEEKS without a single chip!! That's crazy talk.
So, while this is by no means a cheap solution, and while I personally haven't made up my mind about whether I'm personally ready to make this big purchase, I thought I'd share it.
What makes it expensive? Well, it's not just nail polish. It's an elaborate system that includes a set for around $40 that doesn't even have any nail polish in it. It's just the prep solution and the top coat and the remover and such.
Then, each Gelish nail polish
costs around $12-$15. And the most expensive part is the dryer.
But you know the very best part? It's rock-hard, totally dry and slob-proof immediately after the final time you use that dryer (after applying some kind of top coat, I think). This means that I could immediately get to doing whatever I needed to do right away. No sitting still required!!
Value doesn't necessarily mean cheap, it means getting a LOT for your money. If you love to paint your nails, a gel nail system might be a good investment.
The links I am using point to the brand of product that my friend used on me.
P.S. It's not easy taking a picture of your own hand.
___________________________________________________________________
There are affiliate links up there, but here's one more: Don't forget about Amazon's 12 Days of Deals for Kindle books!
For twelve days, they are offering 3 of 2013's best selling books per day for only 2.99! This is only for the Kindle versions. I'm stocking up since a Kindle is on my wish list this year, but you can also read the books using a free app for your computer or smart phone. I'll link to the 12 Days of Deals for Kindle books page each day. ANYthing you purchase on Amazon after you follow one of these links earns me a small commission.
--Nony