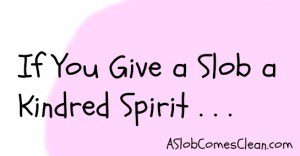 Today, I'm publishing a comment left by one of you as a guest post.  Slob with OCD wrote this If-You-Give-a-Mouse-a-Cookie-esque comment a few days ago, and it tickled me so much I wanted to feature it!  
If it weren't for Nony . . . I wouldn't have been hand washing cereal bowls this morning.
If she hadn't been so funny I never would have read her blog instead of working on my kids' art supplies.
If she hadn't been so real, and so like me, I wouldn't have gotten hooked on the blog and read it straight through from the first post.
If I hadn't found the blog so helpful, I wouldn't have bought the ebook.
If I hadn't found the ebook so great, I never would have gotten into the habit of doing the dishes every day.
If the ebook hadn't been so clear about falling off the horse, and getting back on, I would have given up after the first couple of failures.
If the habit hadn't worked so well, and made me feel so successful, and the Master Bedroom saga so timely . . . I don't know if I could have gotten my house really truly clean from top to bottom for this weekends' house guests.
Since we had the house guests, we went out to two meals over the weekend, which meant I didn't have a full load to run the dishwasher last night.
If I had never gotten into the habit of running the dishwasher every night, my kids (who are at the age where your favorite color is the most important thing in the world) WOULD NEVER have expected to get to use their favorite color bowls EVERY MORNING.
So if I didn't have a really clean house, and a clean-but-unfull dishwasher this morning, I would never have found myself hand washing their favorite bowls.
SO YOU SEE IT'S REALLY ALL YOUR FAULT, NONY!
P.S. Just so you know I'm not completely reformed my reaction to today's post was "They are separate things. . . Okay, they're not, but I'm hanging onto this one for a little longer."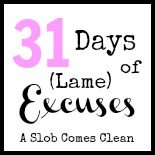 Save