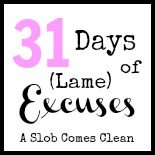 I'm behind on my (lame) excuse posts.
Sorry.
I missed Thursday because I was out most of the day, and couldn't find a moment to write.  I missed Friday because I was putting up a post about my new appliances from Maytag.  And I really couldn't come up with a way to make that an excuse!
Give me time . . . I'm sure I'll come up with something.
So, on this Saturday morning, I thought I'd share two lame excuses to get me caught up.
1.  My sink really needs a good scrubbing, but I don't love the grainy feel of the sink cleaner I have. 
I don't hate it.  I just don't love it.
So I don't do it.
I'm sure there are twenty other reasons I could come up with for why I don't scrub the sink more often, but that's one. 
2.  No one can tell the ceiling fans need to be dusted when they're running.
So as long as it's hot, why bother?
Except that it's not really hot anymore.
And I can't know for sure that it won't be cold tomorrow night when we have our church home group here. 
So I guess I'd better come up with a reason why I need to keep the fan going in case someone asks me to turn it off. 
Or . . . I guess I could clean it.
Better start thinking.
__________________________
OK.  It's just a few more days until the voting ends for top home management blogs over at Circle of Moms.  I'm in third place.
I'd love it if you would be so kind as to go vote for me.  You can vote once each day, and it just takes one quick click to vote.