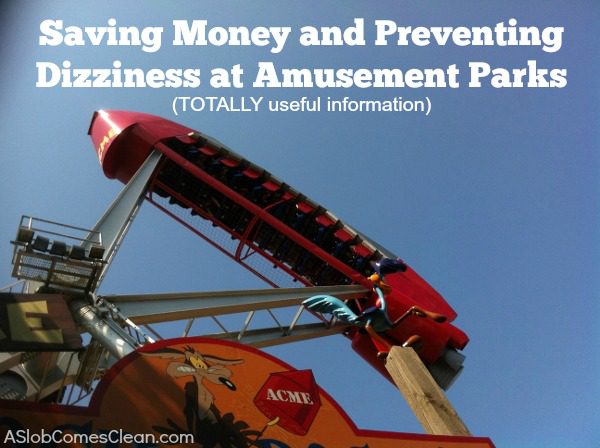 This has nothing to do with being a slob or my deslobification progress. But hey, I have a blog and so I get to write what I want!
A few tips I want to share after our fun trip to Six Flags yesterday:
First, a frugal one. We do our best to spend as little money as possible on the overpriced food at amusement parks. However, a few years ago, some friends who knew we were going said, "Hey, why don't you take our souvenir cups?" See, Six Flags issues a special cup every year that can be refilled for .99 all season long. For a season ticket holder, even a frugal one, it makes sense to buy one.
Since then, we always ask around and find someone we know who has the cups. We borrow them for the day, fill them a few times (they're quite large) and share some cold sodas. They'll also fill them with ice water for you for free! So, even though we take all of our own picnic foods, having the ability to splurge on a soft drink (which is a rare treat for our kids) helps us feel like we aren't the biggest cheapskates/killjoys ever. And one year, someone even gave us their popcorn bucket, which we could fill with popcorn or cotton candy for .99. Just be sure that you don't put the cups in the dishwasher, as you don't want to ruin this borrowed blessing.
And another tip for those of us who have passed the age when dizziness is fun: Find a focal point. I learned this in the very short and unsuccessful time I took ballet, but hubby says he heard it on Dancing with the Stars. Find a point far in the distance to look at, look as long as you can and when you can't see it anymore, turn your head around and then find it again. That's how ice skaters can spin for so long without getting dizzy and how dancers can spin along a straight line.
As for how to combat the fact that jostling, bumpy rides just aren't as fun as they were when you were sixteen? Sorry, but I'd like to know if you find out.
And how to reason with a six year old who thinks a six-foot-banana-with-dreadlocks is a "must have" item? Ummm, I got nuthin'.
--Nony