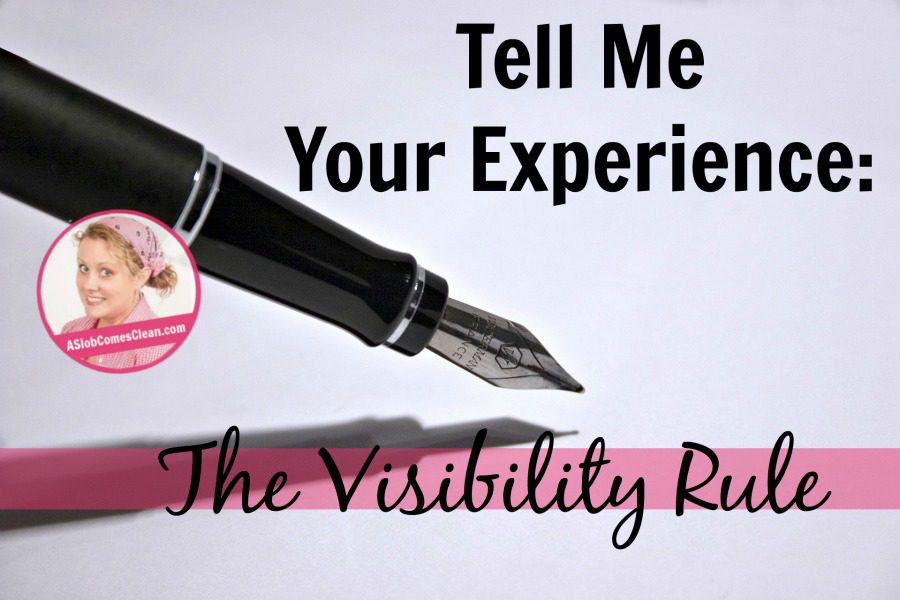 The posts for sharing your "Slob Club Experiences" are coming out two per day. If you are receiving these via email, be sure to scroll down so you don't miss the extra posts. We don't want you to miss the chance to share your story!
Dana is in her little hidey-hole, cranking out the finishing touches on her new book so I (Linda) am here today, bringing you another chance to share your experience. The quotes and stories you've been sending her have been just what she needs. Thank you all so much!
This little 'Slob Club' we've created in our Slob Comes Clean community has been a support and encouragement to many of us. Your testimony will be helping others, just by sharing how you've put Nony's Methods into practice.
Now, will you please consider sharing how understanding The Visibility Rule has helped you get past that overwhelming feeling that your house is out of control? It will really help Dana, having bits of your personal stories to share with her readers.
If you can't see the form below, click here.
Feel free to state your name as anonymous. As "Nony" Dana totally understands.
You'll find all the forms for sharing your own personal stories here.
If you are stopping by for the first time, you may not know what we are talking about. That's ok. You ar welcome to ignore the form above, but feel free to browse through posts like the ones listed below if you'd like to find out more!
How to Prioritize Decluttering Projects
How to Start Cleaning When You Don't Know Where to Start
How to Declutter Without Making a Bigger Mess
How to Not Get Distracted from a Decluttering Projects by Other Decluttering Projects
Declutter Without Distraction Podcast