This is a Sponsored post written by me on behalf of Duck Brand for SocialSpark. All opinions are 100% mine.
This decluttering project is also a sponsored post. Right. I'm getting paid to tackle my messy kitchen drawer. Don't worry. The irony is not lost on me.
Sooooo, cooking had been a little difficult lately.
Maybe because my kitchen drawer looked like that.
Maybe.
Yikes.
It had been bugging me for a very long time. Finally, I took the less-than-ten-minutes to tackle it.
Now here's where I used to get stuck. I'd look at that drawer and think of it as an Organizing Project. I'd assume I needed to stock up on dividers and other organizing supplies.
Now, from way-too-much experience, I know that it's actually a Decluttering Project. If I'll just declutter, the space will be comparatively organized and much more functional.
So I started pulling out the things I knew I didn't need.
Like this:
A handle. Just a handle. Mmm-hmmmmm.
And this:
A handy-dandy who-knows-what-it-is gadget. I'm pretty sure it was given to me by someone (ahem, my mother) who loves and actually USES gadgets. Since I had no idea what to do with it, I stuck it in the Donate Box.
And . . . these: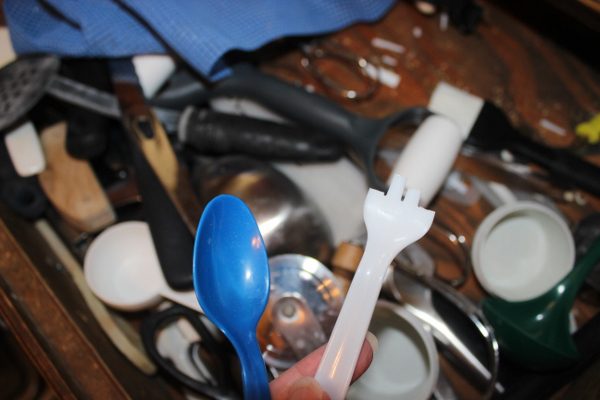 Really. I have no words.
Anyway, after I removed what I didn't need, what was left was amazingly more manageable. I wiped out the bottom of the drawer. I threw away the wadded up liner that had obviously not done anything useful in a very long time.
And then, it just so happened that Duck® Brand sent me their new shelf liner!
As someone who fears commitment . . . I've always been scared of permanent (sticky) shelf liner. But obviously, what I had used hadn't worked out well. But Duck Brand's Shelf Liner grabs on the underside to prevent slipping and is smooth on the top side so the items in the drawer don't cause it to move around!
And look at the pretty colors and designs:
I chose to use the neutral color since I liked the 20 inch wide size.
And "easy" liner lives up to its name.
I placed it in the drawer, and then used my fingernail to create an indention to let me now where to cut.
It was easy to cut and handle, and then I placed it in the drawer. I decluttered a few more things as I replaced the things I'd decided I needed.
And the finished "project":
I put the things I use all the time in the front where I can get to them easily. The things I only rarely use are in the back.
I'd say "JUST decluttering" was rather beneficial, wouldn't you?
Duck® Brand is on Facebook and Pinterest. You can follow them for tons of creative inspiration!
What kind of project would you do with Duck® Brand shelf liner?
Save
--Nony