This printable bundle goes away tomorrow! (Feb 28th at 11 p.m. ET) We've had some fairly legit winter days here in Texas this week, but Spring is coming! Printables don't solve solve slob problems, but can be great for keeping focused. See if there are ones in this bundle that will legitimately help you achieve your spring cleaning goals. And of course, my 28 Days e-book is included so you'll have something for a slow and steady start to getting your home under control if that's what you need!
Below, I've added my observations and favorite things about each product that's included. Remember, most of these are printables, so you get the files to download and then you can print only what you want/need from your own computer.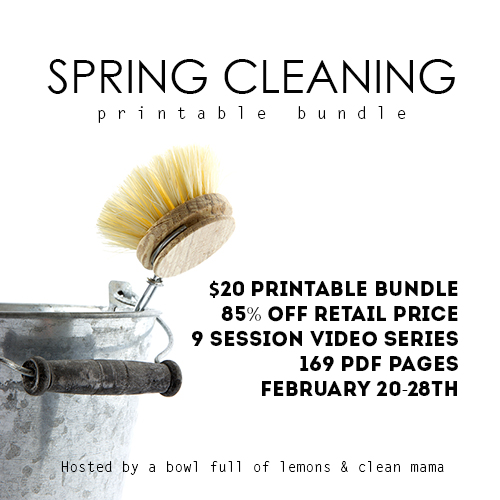 What's included in our Spring Cleaning Printable Bundle?
A Bowl Full of Lemons – 2015 Spring Cleaning Kit
Clean Mama – Spring Cleaning Kit
iHeart Organizing – Donation Printable Kit
Clean & Scentsible – Outdoor Cleaning Kit
Organizing Homelife – Chore Charts for Parents & Kids
Country Chic Cottage – A Guide to Natural Cleaning
i Dream of Clean – The Ultimate Guide to Simplify Your Closet (9 Session Video Series)
Simplify 101 – How to Organize your Closet
A Slob Comes Clean – 28 Days to Hope for your Home (E-Book)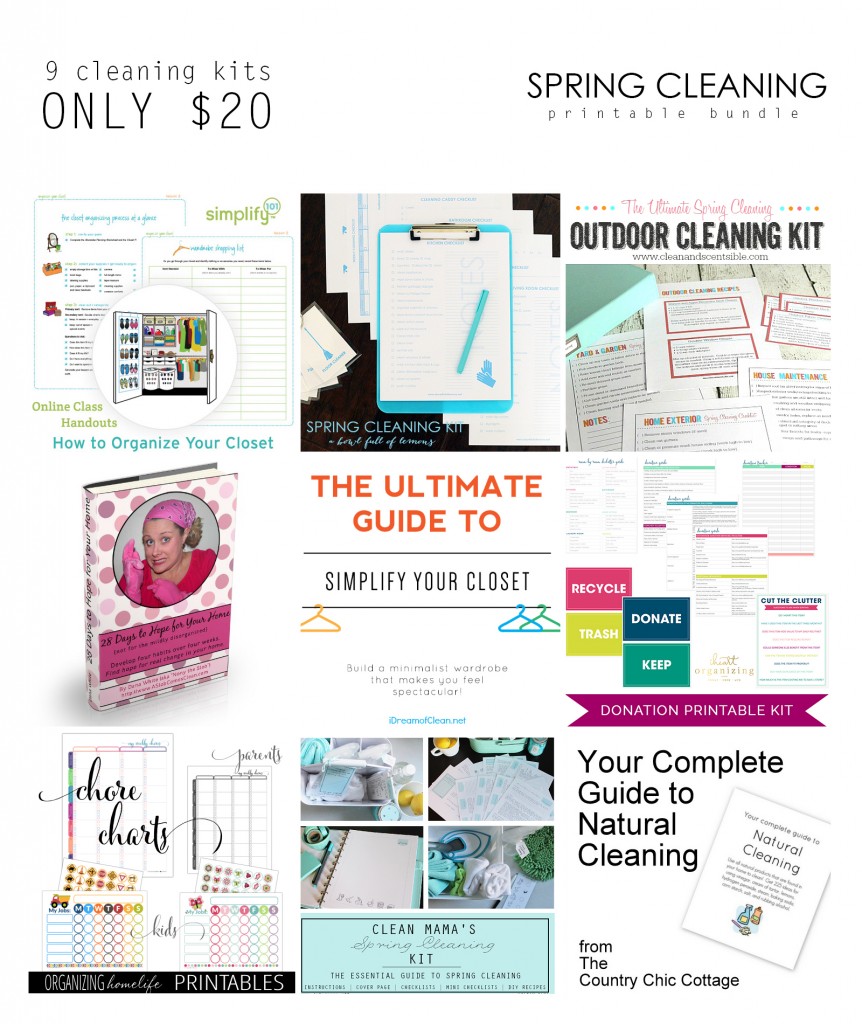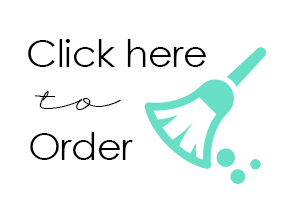 How long is the bundle for sale?
The bundle will be available from 8am EST on 2/20/14 through 11:00 pm EST on 2/28/14. There are no exceptions.
Details about each kit:
Listed below are the pictures, details, and links to the 9 exclusive kits within the Spring Cleaning Bundle Bundle. If you have any specific questions about a kit, please email the blog associated with the kit. For general Bundle questions, you can contact us at springcleaningbundle at gmail.com. Please look at the FAQ page before emailing with questions. All kits are pdf files and will be sent to you in a zip file, once payment has been made (instant download). All files are 8.5 x 11 inches unless stated in the description.

A BOWL FULL OF LEMONS 2015 SPRING CLEANING KIT
 I like:
The detailed room by room checklists! (Which are cute-as-can-be!)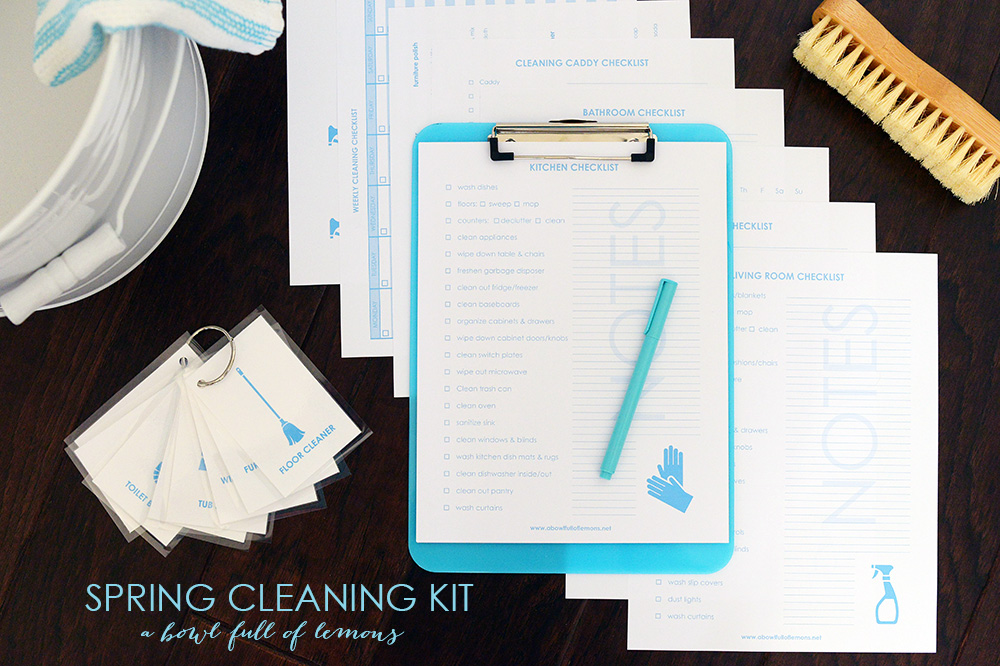 SPRING CLEANING KIT (10 Pages)
A $10 Value
A Bowl Full of Lemons Spring Cleaning Kit includes:
Cover Page
8 Cleaning Recipe Cards (Front & Back) 2 pages
Family Chores Checklist (Blank)
Cleaning Caddy Checklist
Detailed Bathroom Checklist
Detailed Kitchen Checklist
Detailed Living Room Checklist
Detailed Bedroom Checklist
Weekly Cleaning Checklist (Blank)
Blog: www.abowlfulloflemons.net
Shop: http://www.abowlfulloflemons.net/printables-shop

CLEAN MAMA SPRING CLEANING KIT
My three favorite things from this kit:
• A "One Month of Spring Cleaning" checklist with detailed cleaning tasks that you can check off at your own pace.
• Mini checklists for various rooms. Cute and nicely sized for putting in a cleaning supply basket and for passing out to various family members as they're assigned a room to clean.
• The fact that her cleaning recipes include "rubbing alcohol or vodka." This makes me giggle for some reason.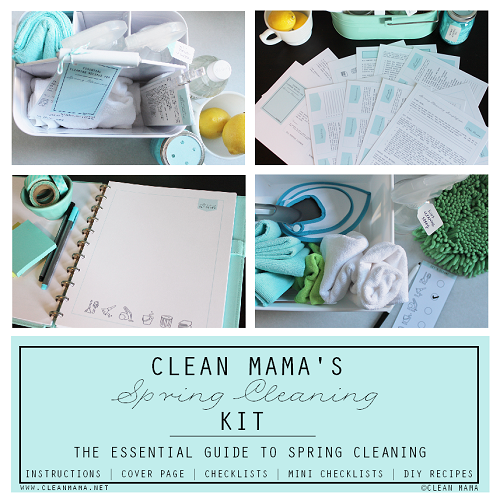 SPRING CLEANING KIT (10 Pages)
A $10 Value
Clean Mama's Spring Cleaning Kit includes:
SPRING CLEANING KIT COVER (with cleaning icons).
GUIDE/INSTRUCTIONS – guide to fitting spring cleaning into an already busy schedule.
ONE MONTH OF SPRING CLEANING CHECKLIST – want to tackle a little bit every day? This full page checklist is perfect and includes my proven process for getting the cleaning done in minutes/day over the course of a month.
MINI CLEANING CHECKLISTS (3 pages/ 9 checklists) – Supplies, Ingredients, Simple Checklist, Kitchen, Bathrooms, Bedrooms, Living Areas, Utility, and a Blank Checklist. Perfect for spring cleaning (or anytime!) Print and trim (print on cardstock and laminate for extra durability) or keep as a full page.
ESSENTIAL CLEANING RECIPES – My 5 favorite DIY formulas for spring cleaning – your house will smell lemon-y fresh!
MINI CLEANING RECIPE BOOK (2 Pages) – trim and assemble your own mini recipe book to keep on your cleaning caddy, print on cardstock and laminate for durability (as shown in images)
KIDS CLEANING CHECKLISTS (1 page/ 3 checklists) – want to get the kids involved? Print out the kids cleaning checklists and make a mini spring cleaning bucket and they'll be cleaning right along with you!
Blog: http://www.cleanmama.net/
Shop: https://www.etsy.com/shop/CleanMamaPrintables
I HEART ORGANIZING DONATION PRINTABLE KIT
What I like in this kit:
• A donation tracker sheet (see it in the pic below) to write down the items you're donating for tax purposes. (People like us would need to print a LOT of copies, and consolidate. Ex. 17 pairs girls 2T shorts good condition. 23 pairs girls 2T shorts fair condition . . . )
• A list of places to donate or get rid of hard-to-get-rid-of items.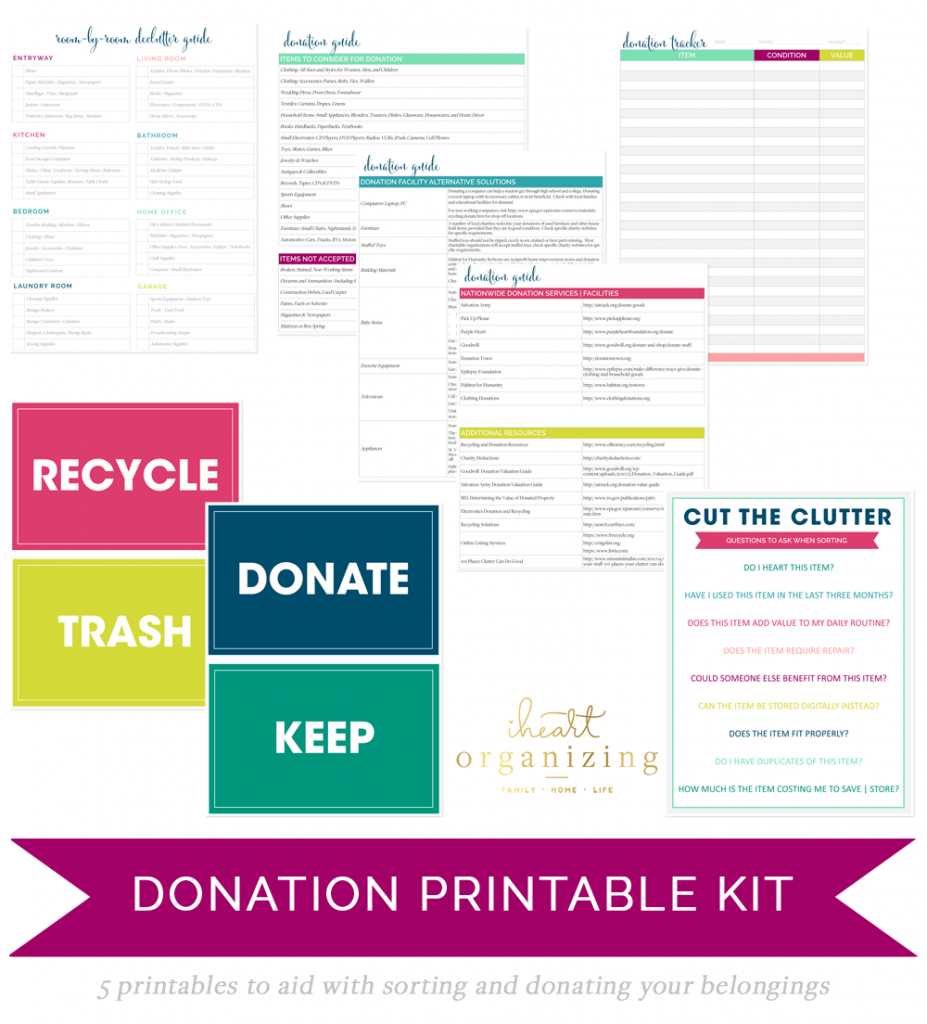 DONATION PRINTABLE KIT (8 Pages)
A $10 Value
The I Heart Organizing Donation Kit includes:
Room by Room Declutter Guide
Donation Guide (3 pages)
Donation Tracker
Cut the Clutter Questions
4 Sorting Signs
Blog: http://iheartorganizing.blogspot.com/
Shop: https://www.etsy.com/shop/IHeartOrganizing

CLEAN & SCENTSIBLE OUTDOOR CLEANING KIT
 Things I like in this kit:
• Detailed lists of things to do outside. (Things that rarely enter my mind.)
• Cleaning recipes for specific items outside. (Cleaning outside things like plastic furniture or fabric or outdoor windows or decks overwhelms me. These recipes make it seem less overwhelming.)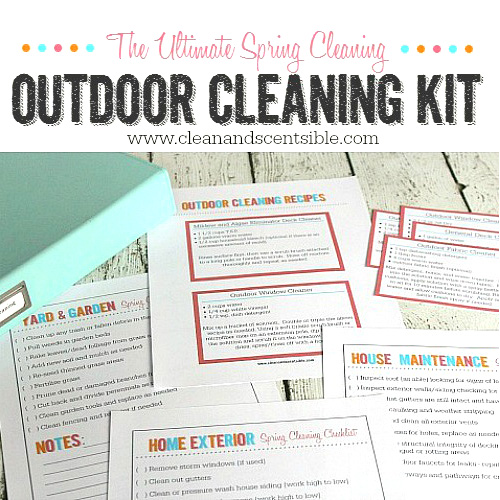 OUTDOOR CLEANING KIT ( 6 Pages)
A $10 Value
The Outdoor Cleaning Kit Includes:
2 outdoor spring cleaning checklists
1 outdoor spring maintenance checklist
6 DIY outdoor cleaning recipe cards
ORGANIZING HOMELIFE CHORE CHARTS FOR PARENTS & KIDS
Things I like in this kit:
• Charts are completely customizable. They don't come with pre-written tasks. You write in the tasks.
• The kids' charts are super adorable. There's a butterfly-themed one and a construction-themed one to appeal to different kids. If you didn't want to use the cutesy circle images for filling out the chart (which would involve cutting or having a special punch + glue), you could just check the boxes or add your own stickers. The chart is adorable on its own.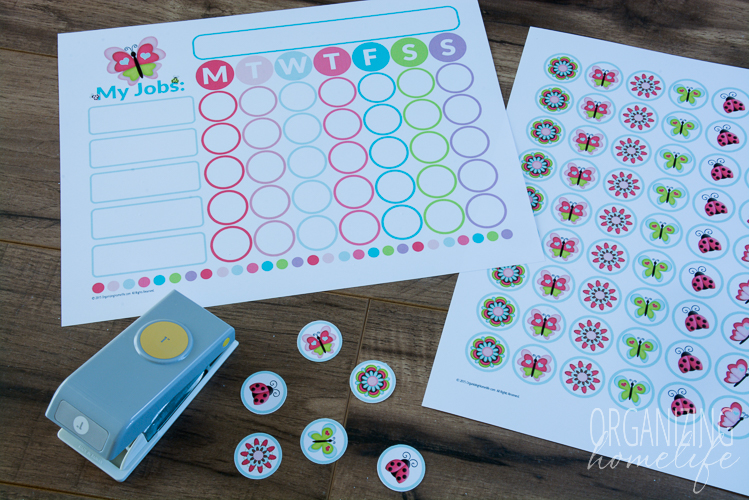 CHORE CHARTS (6 Pages)
A $15 Value
The Organizing Homelife Chore Chart Kit Includes:
A weekly chore chart for moms/adults – 1 in black and white and 1 in color
A weekly "construction" theme chore chart for boys
Boys page of stickers
A weekly "butterfly" theme chore chart for girls
Girls page of stickers
Blog: http://www.organizinghomelife.com
Shop: http://www.organizinghomelife.com/printables-shop
COUNTRY CHIC COTTAGE GUIDE TO NATURAL CLEANING
What I like about this:
• It's an e-book, so you don't have to print, or you could easily print just the pages you need.
• I like the format of this guide. Each section lists LOTS of ways to use a specific common household product to clean. Did you know you can use cream of tartar (which I've only used for snickerdoodles!) for cleaning!
• As someone who doesn't always have the "proper" supplies on hand when the Cleaning Mood strikes, I love the idea of glancing through this e-book to see what I could use that I already have in my cabinet. (Trips to the store can totally kill that mood!)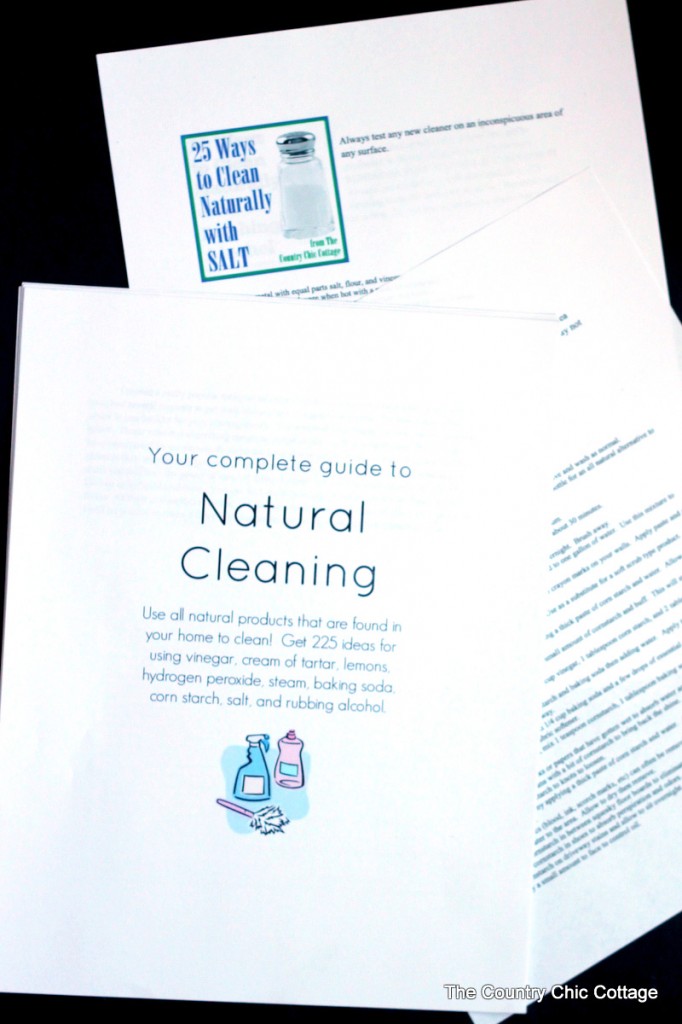 YOUR COMPLETE GUIDE TO NATURAL CLEANING (11 Pages)
A $1.99 Value
The Natural Cleaning Guide Includes:
225 ideas for using vinegar, cream of tartar, lemons, hydrogen peroxide, steam, baking soda, corn starch, salt, and rubbing alcohol to clean.
i DREAM OF CLEAN ULTIMATE GUIDE TO SIMPLIFY YOUR CLOSET
What I like:
Ummm, this is a 39.99 value! That's more than the cost of this entire bundle. As an ultimate cheapskate, that speaks to my soul.
This is a video course, and I haven't had a chance to check it out. You'll receive a special link when you purchase the bundle. I have met Christine, though, and she's a VERY nice, non-intimidating person. (I feel like "non-intimidating" is something people like us need to know when considering a video course about cleaning out our closets!)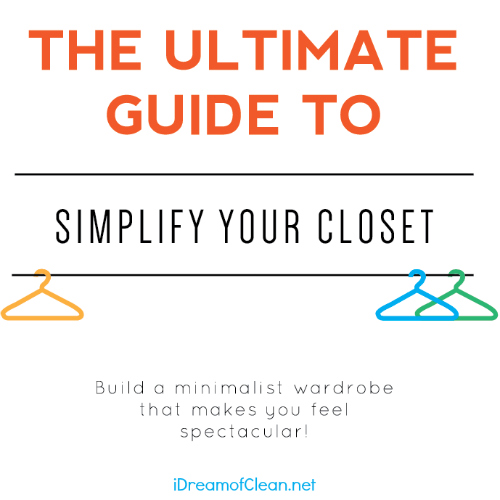 ULTIMATE GUIDE TO SIMPLIFY YOUR CLOSET (9 Session Video Series)
A $39.99 Value
Blog: http://www.idreamofclean.net
Shop: http://idreamofclean.net/simplify-your-wardrobe
SIMPLIFY 101 HOW TO ORGANIZE YOUR CLOSET
Things I like about this:
• It's a detailed course, with an extensive, thorough process. (It's 67 pages!)
• The author specifically addresses common closet-organization problems and gives solutions.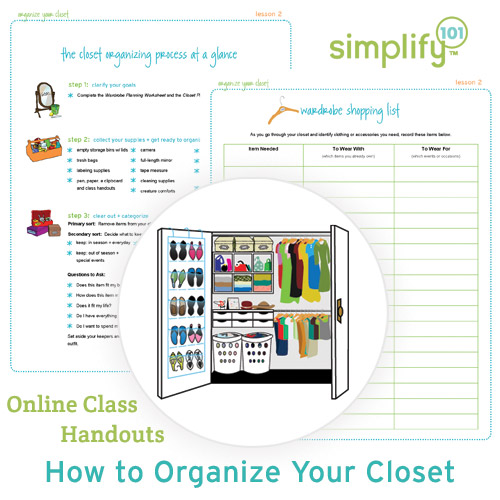 HOW TO ORGANIZE YOUR CLOSETS (67 Pages)
A $19 Value
The How to Organize Your Closet printable pack includes:
Everything you need to transform your closet from chaotic and cluttered to functional and fabulous.
Includes all written lesson materials, questionnaires, organizing checklists & planning forms delivered as colorful, printable, & editable pdfs.
69 pages in total / 2 lessons of easy-to-implement content from simplify 101's class "Organize Your Closet."
Disclaimer: The printable bundle does not include online class features such as MP3 audio files, access to the simplify 101 community forum, access to online class videos, or access to class materials on the simplify 101 website.
Blog: http://www.simplify101.com/organizing-blog/
Shop: http://www.simplify101.com/shop/online-classes/how-to-organize-your-closet/
A SLOB COMES CLEAN 28 DAYS TO HOPE FOR YOUR HOME E-BOOK
I like this one because I wrote it.
• One critic says it's "Brilliant in its simplicity." (Disclosure: That critic is my mother.)
• It works. These four habits are like magic (but not magic at all). They'll transform your home in a way that will boggle the Slob Brain.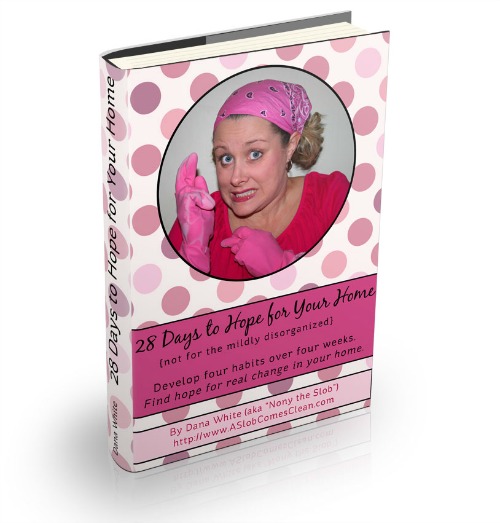 28 DAYS TO HOPE FOR YOUR HOME E-BOOK (52 Pages)
A $5.00 Value
28 Days to Hope for Your Home includes:
28 days of specific instructions to help you develop four basic (but essential) home management habits.
Insights into why these concepts seem foreign to you.
Practical tips to keep you from giving up.
Bonus sections with realistic strategies for laundry management, meal prep, and decluttering.
More than 45 pages of all new, exclusive content not found on the blog!
Blog: http://www.aslobcomesclean.com
Shop: http://www.aslobcomesclean.com/28-days-to-hope-for-your-home/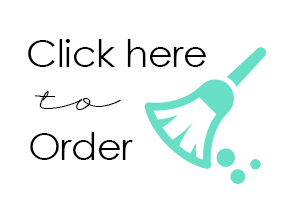 Important Details:
If you have any questions or issues with your Spring Cleaning Bundle, please visit the FAQ page. Look over the questions and answers on the page BEFORE emailing. If you have not found your answer on the FAQ page, please email springcleaningbundle at gmail dot com. To ensure that your question is answered in a timely manner, please take care to email at the "Spring Cleaning Bundle" address (not our personal blog email address). Please note that due to high email volume, we will do our best to respond within 24 hours – thank you for your patience! When emailing, please include a copy of your Paypal receipt and highlight your issue in the "subject" line.
The Spring Cleaning Bundle is an exclusive sale & only available from 8 a.m. EST on February 20th to 11:00 p.m. EST on February 28th, 2015. There are no exceptions.
PLEASE DO NOT SHARE THE BUNDLE WITH ANYONE ELSE. It is intended solely for the person who purchased the bundle. Please be respectful of the authors' copyrights.
After purchasing, you will automatically receive an email (to the email address you provide) containing the download link. Please check your spam or promotions folder, if you cannot find the email.
Please download and back up your Spring Cleaning Bundle AS SOON AS YOU RECEIVE IT. You only have 5 download attempts to access your files.

The download link expires on 3/15/15

. After that date, we will not be able to provide new links to download. Please remember to back up your files. We are unable to send you copies of the printable bundle that have been deleted or lost. We will not respond to those emails.
Due to the digital nature of this sale, there will be no refunds & no exceptions.
If you have any questions or issues with a specific printable included in this bundle, please contact that author directly.

The bundle is provided as a zip file. Please read the download directions on the FAQ page, if you are unsure of how to download a zip file, BEFORE attempting.
Disclosure: This is an affiliate post. If you purchase a bundle from my link, I will receive a percentage of the sales.
--Nony