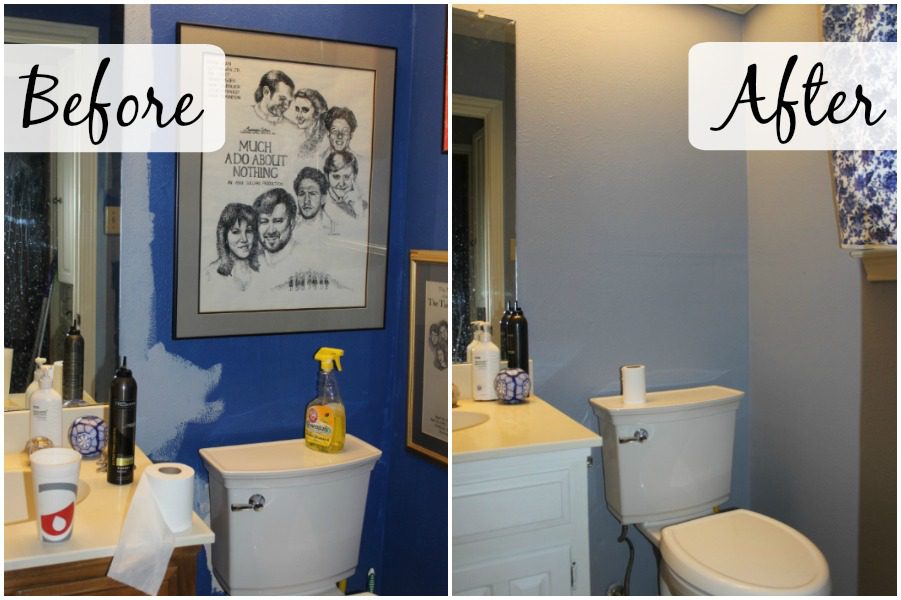 I painted my bathroom over the summer!!!!!
(To be clear, the before photo isn't actually "before." I forgot to take a picture until I had already started playing around and painting that area to the right of the mirror.)
It was our half-bath. The one where we send guests. The one I started painting once before, decided I hated the color, and never really finished. Technically, all wall was covered, but it most definitely needed a second coat that I never added.
Y'know, about 9 or 10 years ago. Part of me wants to think hard and figure out exactly how long ago it was, but the sane part realizes there isn't a significant difference between 9 and 10 years when we're talking about a project I meant to get right back to.
Mmmm-hmmm.
Anyway, I did it.
I've had the paint for over a year. 
But I DID it.
I spent the first few days of summer working on this project. I took my time. I didn't rush. I focused on doing it well, on being careful. On really paying attention to the edges and on covering the walls well so I wouldn't have a repeat of the other (super-ugly-even-though-it-seemed-cool-on-a-teeny-tiny-paint-chip) color's issues.
This time, I had a whole gallon instead of two $5 sample sizes that I'd convinced my cheapskate self I could stretch to cover this tiny bathroom.
I was determined to do it right.
But I learned something about myself: I suck at painting.
The walls look fabulous, and I adore them. The color makes me happy every time I go. My double and triple coats covered that wall like nobody's business, and I'm so proud.
As long as you don't look at the floor.
Or the baseboards. Details like making sure every last inch of floor and baseboard is fully covered and stays fully covered while the project takes days are not my strength. To say the least.
I just can't. Even when I try, the paint drips mock me. The ones I catch, and especially the ones I don't.
There are certain details in my life I can't ignore.
Like which fingers touched my Kindle.
The Kindle I scooted out of the airplane's aisle after I dropped it? The Kindle I scooted with a foot that's wearing a shoe that just walked through New York City?
I'll remember exactly which fingers touched my Kindle and not use those fingers for anything that will touch my face until the moment I can get to some soap and water. I can't just shake that off.
But paint splats that sneak between layers of newspaper? Not so much.
I've learned to deal with this inability to see certain details in some areas of my home. I now see the point in loading the dishwasher even though I can't stop and focus on every last detail. Details like drying the sink to prevent water spots or noticing that the dish soap is on its side and dribbling blue stuff onto the counter.
Even when I miss the details, I'm better off for having done the dishes. A spotty sink that's empty is WAY better than a sink and countertop piled high with dirty dishes.
Yes. Do the dishes.  Because even if I do them badly, we're all better off.
And because I can't hire a live-in housekeeper to do them for me.
But . . . I could probably hire someone to paint my bathroom. And they'd probably know how to prevent the drips. And they'd be done faster than I was. And I could probably have had it done 8-and-a-half years ago so I didn't have to cringe with embarrassment every time someone went in there. In there where I couldn't go with them and laugh off the imperfection.
I've really started thinking lately about how my extreme frugality doesn't always mesh well with my reality.
DIY is awesome. DIY is often my only option. But sometimes, I need to get over my extreme-to-the-point-of-hurting-my-home frugality and hire someone to do what I've proven again and again I don't do well.
Am I saying I'll never paint again? No. But am I saying that I need to be realistic about which home projects I'll never actually do, or never actually do properly and seriously consider hiring someone to do them for me so they'll actually happen and actually be done well? Yes.
I'm working on changing this mindset.
And I finally, last week, I rehung the totally not perfect, still-never-sewn-into-a-real-curtain curtain. Yay for privacy and for hiding the paint cans that are still sitting on that ledge.
Oh yes, I have issues. Many issues.
P.S. Another issue is that yes, someone (someoneS) has (have) been using that toilet paper roll without putting it on the TP holder.
P.P.S. I do love my Kindle, LaGuardia Airport germs and all. I consider it one of the best Christmas gifts I've ever received. This is my affiliate link to the one I have. 
Other posts about this Frugality Mindset Issue Thing:
My Changing View of Stuff and Value
My Thoughts on Hiring Someone to Clean Your Home
--Nony