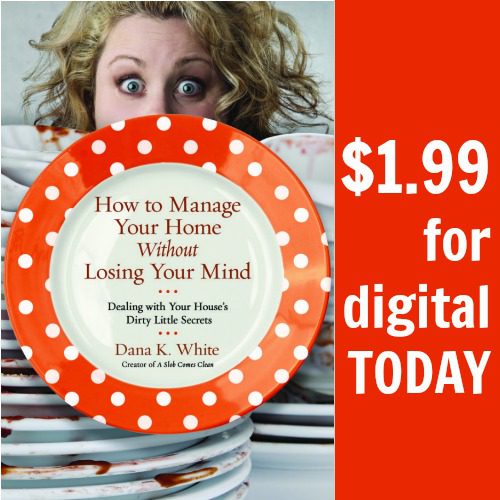 Today only, the e-reader versions of How to Manage Your Home Without Losing Your Mind are only 1.99!
If you've been telling friends about the book, this is a great day to encourage them to grab it for themselves!
Go here (scroll down past the info about my new book!) to find links to the places where you can purchase it!
And, in case you've considered giving the book to a friend, either for their benefit or so they can understand what goes on inside your brain, I looked up links to how to gift an e-book:
(my affiliate link) Gifting a Kindle e-book.
Here's a sample note you could send with your gift.
The book I told you about that has made a HUGE difference in the way I function in my home is on sale, so I bought it for you! Don't be offended! I just love it so much and want you to have it!
If you're personally still on the fence, I love this 5 star review posted on Amazon recently:
Dana K. White has helped me with cleaning so much by making it simple. Her concepts are very practical and useful. This isn't just an organizing book for already organized people.
And if you don't have a Kindle or Nook or other e-reader, you can download the reading app for free which will let you purchase and read e-books on your phone or tablet or desktop.
Here are links to those apps:
If you have an iPhone or iPad, you already have iBooks!
--Nony